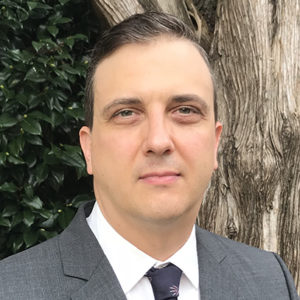 Investigators have discovered that cancer-related proteins can gain new interactions that are potentially oncogenic and could drive cancer development and growth. The findings, published in Cell, could help inform the design of precision therapy strategies for different types of cancer.
Lee Cooper, PhD, associate professor of Pathology in the Division of Experimental Pathology and of Preventive Medicine in the Division of Health and Biomedical Informatics, was a co-author of the study.
Genomic sequencing in tumors has long been used to identify DNA mutations that enable cancer growth and progression. Understanding how these genetic alterations lead to the dysregulation of essential cellular functions such as proliferation, metabolism and response to stress, has the potential to uncover new therapeutic targets.
"This requires mapping interactions between proteins and identifying important interactions that are gained or lost by altered proteins," said Cooper, who is also director of the Center for Computational Imaging and Signal Analytics in Medicine within the Institute for Artificial Intelligence in Medicine (I.AIM) and a member of the Robert H. Lurie Comprehensive Cancer Center of Northwestern University.
In the current study, the team developed a novel quantitative high-throughput differential screening (qHT-dS) platform to test more than 17,000 possible protein-protein interactions and more than two million data points in live cells.
Using this platform, they were able to identify a number of surprising new protein-protein interactions, which result from alterations to the cell's DNA.
"Many alterations result in a loss in function, or increased activity of existing functions, but the gain of a novel function is a special situation; these new functions can be very unexpected," Cooper said. "The qHT-dS platform illuminates these interactions by allowing us to link the altered protein to new interaction partners that have known functions."
For example, they found that well-known tumor suppressor proteins gained new interactions that may be oncogenic or growth-promoting. Previously, these proteins were generally believed to enable tumorigenesis through loss of their tumor suppressing functions, according to the authors.
They also discovered an interaction between proteins BRAF and KEAP1; BRAF contains a mutation that is present in several cancers and is often used as a therapeutic target, and KEAP1 mediates the cell's overall response to oxidative stress.
Ultimately, this interaction creates a new role for BRAF in mediating the cellular stress response, in addition to its better-known role in promoting cell growth, unveiling new avenues in designing enhanced targeted therapeutics, according to the authors.
"The BRAF-KEAP1 interaction illustrates how the discovery of a novel function can assist the rational design of a combination therapy. Mapping the network of protein-protein interactions can also put targets like tumor suppressor proteins that are currently undruggable in play by revealing the gain and loss of interactions," Cooper said.
This work was supported by National Cancer Institute's Cancer Target Discovery and Development Network grants U01CA217875 and U01CA217842.