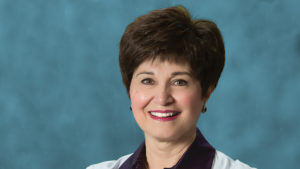 A new androgen biosynthesis inhibitor drug improved progression-free survival in prostate cancer but did not improve overall survival compared to current therapies, according to a study published in the Journal of Clinical Oncology.
The findings are a testament to how far prostate cancer treatment has come, according to Maha Hussain, MD, the Genevieve E. Teuton Professor of Medicine in the Division of Hematology and Oncology and a co-author of the study.
"We have entered a new era where metastatic hormone sensitive and castration resistant prostate cancer patients are living much longer as a result of several life-prolonging therapies," said Hussain, who is also deputy director of the Robert H. Lurie Comprehensive Cancer Center of Northwestern University. "This is clearly a major progress in the field compared to 10 years ago."
Prostate cancer is the most common cancer and the second-leading cause of cancer mortality among men in the United States. Androgen deprivation therapy (ADT), which reduces levels of androgen hormones upon which prostate cancer relies, has been the mainstay of care for more than 60 years.
In the current trial, patients with metastatic hormone-sensitive prostate cancer were assigned to a control group — receiving ADT with bicalutamide — or to the experimental group — receiving ADT with orteronel, an androgen biosynthesis inhibitor. Orteronel decreases circulating levels of testosterone and was theorized to improve efficacy of ADT by extending the period of androgen sensitivity.
Nearly 1,300 patients were enrolled in the trial with a median age of 68 years. Median follow-up was 4.9 years.
Patients receiving orteronel experienced a significant improvement in median progression-free survival (PFS); 47 months in the experimental group versus 23 months in the control group. However, overall median survival was not significantly different between the two treatment arms.
The positive PFS results indicate that orteronel could be a useful combination therapy alongside ADT, but the inconclusive findings regarding overall survival may reflect availability of several life-prolonging treatments for men with metastatic castration resistant prostate cancer, according to Hussain.
Advanced prostate cancer treatments and patient survival have significantly improved during the last decade, so searching for differences in overall survival in the context of more life-prolonging treatments alongside ADT may be too high of a bar for an endpoint, Hussain said.
"Future trials in this disease setting will need to incorporate intermediate end points to get a faster read on efficacy," Hussain said.
This study was supported by the National Institutes of Health grants U10CA180888, U10CA180819, U10CA180820 and U10CA180821, and in part by Millennium Pharmaceuticals.