Rohail Memon, a second-year medical student, used his finance background to investigate the rise of private equity ownership of dermatology practices. Publishing a study in JAMA Dermatology, Memon found troubling debt loads among dermatology groups owned by private equity firms, raising questions about the arrangement.
Read a Q&A with Memon below.
Why did you choose Feinberg?
Listen to Memon below:
I grew up around the renowned institution of Feinberg. This allowed me access to many research opportunities, including at the Mesulam Center for Cognitive Neurology and Alzheimer's Disease with Dr. Changiz Geula and working in the Dermatology Clinical Trials Unit with Dr. Beatrice Nardone. Attending Feinberg also allowed me to stay in the city I grew up in. This proximity to my family and friends provided me with a strong support system as I embarked on my medical journey.
Lastly, Feinberg allowed for me to grow into the physician that I wanted to be. In particular, courses like NUvention, appeal to me as I want to harness my background in the business world and channel that in an interdisciplinary fashion with others from Northwestern's other program including the undergraduate and graduate programs in engineering, law and business into creating a product that will have a large-scale impact in medicine.
Where are you from and where did you attend undergrad?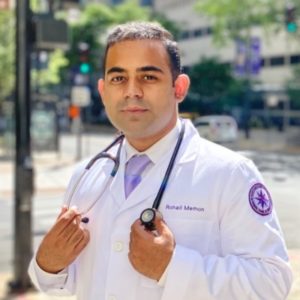 I was born and raised in the Chicagoland area and graduated from Northwestern University with a Bachelor of Arts in economics, cum laude, in 2017.
What are your medical or research interests?
As someone who has used many therapies for hair restoration and spends free time researching hair care, I have a unique interest in hair, which led to my growing interest in the field of dermatology. I worked with Dr. Beatrice Nardone in the Dermatology Clinical Trials Unit at Feinberg, where I was exposed to different elements within dermatology. Also, having worked in finance and pharma prior to medical school, I'm interested in the business of medicine and new therapeutics entering medicine.
Do you participate in any organizations or societies at Feinberg?
During my time at Feinberg, I have helped co-found Feinberg Finance, the Gastroenterology Interest Group, and NU Vision. Also, I have spent time volunteering with Chicago Street Medicine.
What has been your most rewarding experience?
I spent a few years working in finance, including investment banking where I was involved in dealings with private equity firms. I noticed the corporatization and rise of private equity in dermatology and found it fascinating. Knowing that many private equity transactions came with cost-cutting and large debt loads, I wondered if the rise of private equity in dermatology could have adverse outcomes for the specialty, and more importantly patients seeking dermatologic care.
What advice would you give to prospective medical students?
Pursue research that interests you. Research is an extracurricular activity for which students volunteer their free time. If students elect to work on projects that actually interest them, it will make the work much more interesting and the projects so much more rewarding.