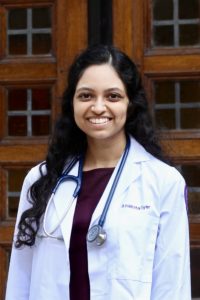 When Anahita Iyer began her medical school career at Feinberg, she noticed there wasn't a space for medical students of South Asian descent to connect and celebrate their identity. After Iyer spoke with some of her peers who felt the same way, they formed Feinberg's South Asian Medical Student Association (SAMoSA).
In addition to fostering community and celebrating diversity, SAMSoA provides mentorship for South Asian medical students at Feinberg and the opportunity for all students at Feinberg to learn about South Asian culture. The organization became an official student-led organization through Feinberg's Student Senate in August.
Learn more about Iyer and SAMoSA below.
Where is your hometown and where did you attend undergrad?
My hometown is Doylestown, Penn. I went to college at Harvard University where I majored in neurobiology and minored in global health and health policy.
Why did you choose Feinberg?
I remember Feinberg was my favorite interview day. When I interacted with my peers, current students and faculty members, it was such a warm, welcoming and collaborative environment. I felt like everyone was there to help each other out. I really liked the emphasis on student wellness, as well.
In terms of the curriculum, I thought the idea of Problem-Based Learning (PBL) was really cool and that we would get early clinical exposure through the Education-Centered Medical Home clinics. Also, Chicago seemed like such a great city. I think I was so enthralled and enamored by the city when I came to visit, and there also seemed like there were so many opportunities in the Chicago area that I was really excited about.
What are your clinical and research interests?
As for clinical interests, I don't know for sure yet. I've liked every module that we've had so far, so I'm thinking maybe the internal medicine route would give me a chance to explore all of these different specialties and then I can decide if I want to sub-specialize in one of those. But it's so hard because I like everything. I've also had an interest in neurology since undergrad.
In terms of research interests, for my AOSC project over the summer, I worked with Dr. Ruchi Gupta at the Center for Food Allergy and Asthma Research on a project about adherence to early peanut introduction guidelines to reduce the incidence of peanut allergy. It was super cool to be a part of and very close to my heart because I have food allergies myself, including a peanut allergy.
What do you oversee as president of SAMoSA?
Currently as president, my team and I work together to put on events and determine what our vision is going forward with SAMoSA. At the end of spring semester last year, we had an informal Holi celebration, which is a festival of colors celebrated in India. We also had a large Diwali celebration and that was awesome. Around 70 people of South Asian descent and non-South Asian descent came, it was such a great turnout.
Any upcoming plans for SAMoSA?
Our leadership team will probably turn over in December or January when the first-year medical students take over. Hopefully, they'll continue Holi and have other events like Bollywood movie nights. We are also excited to reach out to faculty and community organizations to put on speaker events so that students can see role models of South Asian descent in medicine and learn how to get involved. In addition, we hope to register as a chapter of the national South Asian Medical Association to expand our network. We have a lot of ideas and hopefully we'll pass them on to the first years and they can make them happen.
What advice would you give to prospective medical students?
I think it's really important to have balance between your academics, doing things that you love, having time for people in your life, and maintaining old relationships and forming new ones. I think especially after last year with being all virtual and this year being our first time in-person, I've found a new appreciation for medical school giving us the opportunity to be around our peers and faculty who are amazing leaders in their fields.
I would encourage people to get to know their classmates because these are going to be the future leaders of medicine. Also, take advantage of the unique opportunities you have as medical students, for example getting involved with the COVID-19 vaccination effort, which was such a unique opportunity.
Also, everything evolves so quickly in medicine. They tell us what we're learning today might be outdated in a couple of years, so it's important to always be on your toes and embrace change. We're going to be lifelong learners in the field of medicine.