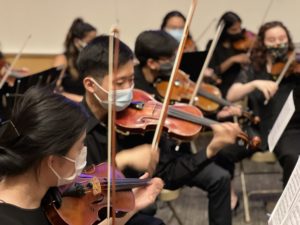 The Northwestern Medical Orchestra has returned to the stage, delivering an in-person performance for the first time in nearly two years. Held December 10, the concert featured a live and in-person performance from a string orchestra and debuted a pre-recorded performance from the group's wind ensemble.
Founded in 2018, the Northwestern Medical Orchestra (NMO) is a musical group comprised of medical students, faculty staff and alumni from across the Northwestern Medicine family.
"As medical students, making sure that this would be a safe experience for both our musicians and audience was one of our top priorities," said Bettina Cheung, a student in the Medical Scientist Training Program (MSTP) and co-president of NMO. "Having two groups definitely increased the logistical burden for our executive board, but seeing all our musicians so happy to play together again at rehearsals made it all worth it!"
The string orchestra performance was held at Hughes Auditorium and was led by Taichi Fukumura, assistant conductor of the Chicago Sinfonietta and a Northwestern alumnus. The orchestra performed works composed by Edward Elgar and Vasily Kalinnikov for more than 100 audience members.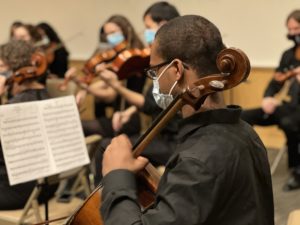 Playing in front of a live audience again was invigorating, according to Seong Park, a second-year medical student.
"Being able to play in-person again definitely feels refreshing and rewarding. As I have joined NMO as a first-year medical student when the COVID pandemic just started, I did not have an opportunity to play in a large orchestra for almost two years until this fall 2021 concert," Park said. "Even though I was thankful to be able to continue making music in NMO's small chamber groups, I missed being part of a larger violin section and especially meeting new people who share the same passion for making music."
By virtue of their instruments, the string orchestra was able to practice and perform indoors whilst masked. On the other hand, the wind ensemble was forced to get creative, rehearsing outdoors throughout the fall.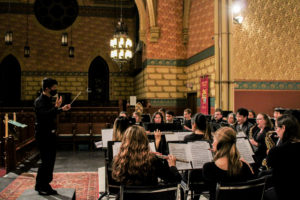 "Our merry band braved the elements, including strong winds, cold, darkness, sirens and several close calls with rain," said Michael Wang, a fourth-year medical student who conducted the wind ensemble. "We handled these conditions with clothespins, jackets, stand lights, a microphone for the conductor, and grace and passion in our spirits."
With a 100 percent COVID-19 vaccination rate and negative tests in hand, the wind ensemble gathered indoors for the first time in months to record their performance in the St. James Cathedral, and debuted the performance during the NMO fall concert.
The NMO is planning to continue this hybrid format with their next concert on January 28.