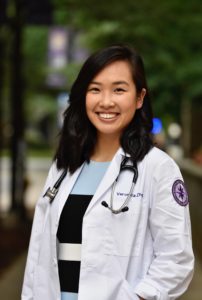 Second-year medical student Veronica Zheng is the co-founder of the "Walk with a Future Doc" program, which connects community members and Feinberg medical students to discuss health topics while taking weekly walks in Chicago parks.
In partnership with the Chicago Park Foundation, the program encourages community members to learn more about their own health while getting outside and building relationships with future healthcare providers.
Read a Q&A with Zheng below.
Where are you from and what did you study in undergrad?
I'm from Plano, Texas and I went to Rice University where I majored in biology.
Why did you choose Feinberg?
I think a big reason was definitely the location. I've lived in Texas my whole life and I wanted a change of pace. Chicago is pretty much as good as it gets as far as places to end up. When I came for my interview day, I remember being blown away by how welcoming the faculty was, and I was also really excited to hear about the early clinical experiences for students, like ECMH. I also liked that research is part of the curriculum, which motivates me to actually get stuff done.
What are your clinical and research interests?
I worked on my Area of Scholarly Concentration project over the summer with Dr. Oluwateniola Brown. I worked on a urogynecology project on labor and delivery at Prentice Women's Hospital. That was a really great experience because I think not many students get to do prospective clinical studies, as they're really time consuming and difficult to finish in a summer. But my project was just the right size for me to be able to do it by myself. We're working on doing the data analysis for it right now.
Right now, I'm leaning towards specializing in OB/GYN, which is why I wanted to do my research in that. I just really like the idea of working with women because I think women are amazing and so strong. There's a lot going against us right now, but we persist. I also feel like OB/GYN is kind of a unique specialty in that we get to see the beginning of life and new life coming into the world, rather than only treating the very sick or those reaching the end of their life. I think having a baby is one of the very few reasons that someone would be happy to come to the hospital, and I'd love to be part of that.
How was Walk with a Future Doc started?
I'm one of the founders of the Feinberg chapter along with another student in my year, Alan Soetikno. Dr. Karen Sheehan is on the board of the Chicago Parks Foundation and they had this idea for wanting to take community members on walks with future doctors. She took the idea to Feinberg students, and Alan picked up the project and invited me to join him.
During the walks, which are about 45 minutes long, we've talked about things like why walking is good for you and the health benefits of walking. Recently, we talked about sleep hygiene and how to get better sleep, especially because I think in the middle aged to older population that can fall to the wayside. We've had a few pilot walks in Lincoln Park and Jackson Park already and they've been going well. Now, we are working on recruiting more community members and trying to get other Chicago med schools to start their own chapters because we're trying to emphasize equity and access to this program.
In the future, we're hoping to see a more diverse population join as we continue to expand. So far, the ages of people who've signed up range from teenagers to people in their seventies or eighties. People who come tend to be those who are really involved with the Chicago Park Foundation, and we are working on more promotional materials and helping to advertise through the ECMH program, as well.
How does the "Walk with a Future Doc" program benefit not only the community, but also the medical students involved?
I think it's a really great way for med students to interact with community members outside a clinical setting, which we don't really get to do that much because medical school is so busy. I think a lot of the times, we fall into a pattern of viewing patients as just an assignment. Chatting with people casually while walking through a nice park is a great way to get to know someone and remember that there's a lot more to a patient than just the illness that they're coming in for.
What advice would you give to prospective medical students?
Don't be afraid to take risks and try things that are outside your comfort zone. I feel like being at a place like Feinberg offers a rare set of opportunities where if you want to do something, there's probably someone here who already does that thing. Also, make time for activities that you actually care about and don't just sign up for things because you feel like you have to.