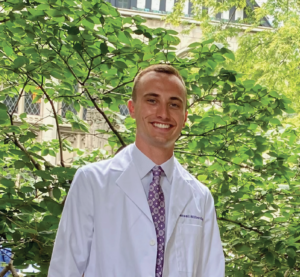 A personal tie to the medical field when he was a child is what motivated first-year medical student Max Wilberding to choose to pursue a career in medicine. Already a few weeks into his medical school career at Feinberg, Wilberding said he's excited to get involved with the campus community and take advantage of the various research opportunities available to students over the next four years.
Wilberding, originally from Middletown, Ohio, graduated from The Ohio State University with a major in biomedical sciences and a minor in creative writing. In his free time, he enjoys playing competitive chess, the harmonica and other instruments, rebuilding cars and motorcycles, gardening and cooking.
Read a Q&A with Wilberding below.
Why did you choose to attend medical school?
I usually joke that starting out, I had a little bit of difficulty with medicine. I had some complicated medical eye issues as a kid and so in seeing an ophthalmologist, I was made to wear eye patches to school every day at a young age, and that was no fun for someone in kindergarten and first grade. So, I grew up with animosity towards doctors because they were the reason that I was getting picked on in school. As I grew older and became more curious, I wanted to understand why I had this animosity. After talking with my ophthalmologist and learning more about science and biology, I figured out that had I not worn eye patches, I would be completely blind in one eye to this day. So, I felt very fortunate about the way medicine impacted me at a young age, and I turned that feeling into curiosity for research and studying medical-oriented subjects in high school and college. From there, I just felt confidence in my ability to impact lives as medicine did for me.
Why did you choose Feinberg?
I chose Feinberg because it offered so many clinical activities so early on, where within our first few weeks we're interviewing patients and working at our ECMH outpatient clinics. Of course, we first-year students understand that we don't know next to anything yet but having that exposure so early on gives us the ability to learn so quickly, and I felt like that would be best tailored to my interests in medicine. I'm so happy to be here in Chicago, to have those opportunities in research and hopefully join the Wellness Committee. I just feel like there's such a community here.
How have your first few weeks of medical school been so far?
They've been nothing short of amazing. The professors for all our classes have been so welcoming and extremely talented and well-rounded in their fields. Any time I feel a little overwhelmed in class with all that I need to study to ensure I'm well-equipped to practice medicine, I see the support network behind me and regain the confidence that has kept me going along this path. Above all, being in clinic and having time with patients at least a day or two a week, I am recentered consistently on the fact that we're here to become doctors, we're here to see patients and help improve their lives.
What are you most excited to do or learn in medical school?
One thing that caught my eye immediately was the Buddy Program, which partners medical students with patients with Alzheimer's that we can talk with weekly. We reflect on what we're learning from them and how we can be helping them through this part of their journey in life, which has a personal tie to me. My dad's father passed from Alzheimer's when I was very young and the few memories I have of him are rather difficult: of him not necessarily remembering me or other members of my family. All Ears is another great program that I've been looking into; I just really love the ability to converse with patients.
Personally, I've always been interested in pediatrics, and I just feel like a kid inside — it's that simple. I recently signed up to shadow pediatricians at Northwestern Memorial, and I'm really excited about that because of how many kids are born at Northwestern Memorial. It's just crazy. Because of the sheer volume of faculty that we work with, I'm bound to run into people in neonatology and other pediatric hospitalists, and I've already built some connections in that field. So many of them are so welcoming, they've offered me to come and shadow them and to get involved with their research. The only hard part about any of this is just trying to keep track of all the opportunities I have here.