University helps coordinate $185 million NIH project investigating millions of genetic variants causing global disease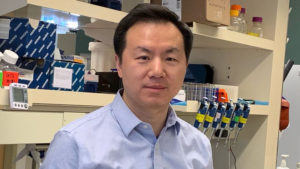 Northwestern Medicine is part of the research team on a $185 million National Institutes of Health (NIH) project that will explore the millions of genetic variants that cause disease around the world. The project is called the Impact of Genomic Variation on Function (IGVF) Consortium.
Northwestern and Washington University will receive a $7 million grant from NIH to co-lead the Data and Administrative Coordinating Center (DACC) for the consortium.
Scientists have identified millions of human genomic variants that differ across the world, including thousands of disease-associated ones. However, it has been challenging to pinpoint which variants in the genome are relevant for health and disease, information that will be of critical importance to clinicians.
The NIH's project will address this problem and fund 25 awards across 30 U.S. research sites.
Feng Yue, PhD, the Duane and Susan Burnham Professor of Molecular Medicine and associate professor of Biochemistry and Molecular Genetics, will lead the Northwestern DACC team, which also includes Rex Chisholm, PhD, vice dean for scientific affairs and graduate education and the Adam and Richard T. Lind Professor of Medical Genetics, and Barbara Stranger, PhD, associate professor of Pharmacology.
"By incorporating both computational modeling and functional assays, the IGVF investigators will prioritize and identify key genetic variants in different diseases, and these variants will be used for better diagnoses and facilitating personalized treatment," Yue said. "We are really glad to join this global effort to study and contribute our expertise to study how variants influence human health."
The IGVF consortium will develop a catalog of the results and approaches used in their studies. All information generated by the consortium will be made freely available to the research community via a web portal to assist with future research projects. Because there are thousands of genomic variants associated with disease and it is not possible to manipulate each variant individually and in each biological setting, consortium researchers will also develop computational modeling approaches to predict the impact of variants on genome function.
As a data and administrative coordinating center, the Northwestern team will be dedicated to building the consortium web interface, leading the educational and community-outreach activities and spearheading the data analysis and integration efforts.