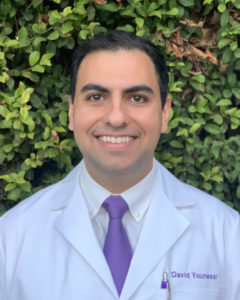 David Younessi, a second-year medical student, says he hopes to use his background in policy and interest in health economics to optimize care delivery from public payers. During his first year in medical school, Younessi worked on a study that highlighted price disparities between Medicare and VA Community Care (VACC) reimbursements for several ophthalmic procedures — a prime example of the types of issues he hopes to solve in his career.
Read a Q&A with Younessi below.
Why did you choose Feinberg?
Feinberg has been my dream medical school ever since I visited Chicago for the first time in 2013. During that trip, I spent nearly two days walking around the campus and facilities in complete awe of how friendly everyone seemed, how beautiful everything was and how invigorating the academic environment felt. I'm thrilled to say that every experience I have had with Feinberg since then has embodied the same magic I experienced nearly 10 years ago.
Where are you from and where did you attend undergrad?
A Los Angeles native, I was drawn by the siren calls of warm weather and family pleas to stay local for my undergraduate education. I attended the University of California, Los Angeles, where I studied political science and completed a concentration in international relations. During college, I served as a congressional intern for Representative Ted Lieu (CA-33), an experience which planted early roots for my ongoing fascination with health policy.
What are your medical or research interests?
Although I intend to keep an open mind as I progress through my schooling and rotations, I hold a deep interest in the field of ophthalmology. I feel incredibly grateful that the ophthalmology department at Northwestern is so supportive of student exploration and I have thoroughly enjoyed learning from and collaborating with the faculty.
I am also interested in health economics and care delivery optimization, and I hope to employ my background in policy to advocate for those whose health is adversely affected by governmental factors — be it by collaborating with public health researchers or working directly with legislators to implement policy improvements. Ultimately, efforts to uphold equity should extend beyond the point of care to include the removal of any barriers that can prevent certain populations from seeking treatment. Through recognizing the social determinants of differential care availability and advocating to address them, I believe it is possible to reduce inequalities in the attainability and outcomes of medical treatment.
Do you participate in any organizations or societies at Feinberg?
I am the senator for Caprio College, chair of campus affairs, and current president of the ophthalmology interest group. Additionally, I served on the student panel for LCME reaccreditation and am on the student review panel for the professional development curriculum. I take immense pride in being a part of the Feinberg family and love seeking opportunities to become more involved with campus affairs. Ultimately, I hope that I can leave a positive mark on the community and give back to the school that has already given so much to me.
What has been your most rewarding experience?
Reaching out to Dr. Dustin French for research mentorship was probably the most pivotal and influential decision in my time at Feinberg thus far. From our very first conversation, I knew that Dr. French was more than just a phenomenal mentor- he is someone who I will look up to for advice as I progress through my medical education and career at large.
Under his mentorship, we published a paper in the Journal of Medical Practice Management that shone light on the vast price disparity between Medicare and VA Community Care (VACC) reimbursements for commonly performed ophthalmic procedures. We found that community care expenditures regularly exceeded those of Medicare, with the average reimbursement of the most commonly performed procedure (intravitreal injection) being 4.5-fold greater through VACC compared to Medicare ($662 versus $147). This trend held true for all of the procedures we studied across both outpatient hospital and surgical center settings.
In the paper, we discuss several possible explanations for this trend — including the enactment of the Medicare Access and CHIP Reauthorization Act of 2015 (MACRA), which aimed to decrease Medicare expenditures by shifting reimbursements away from a fee-for-service model and towards a more value-based approach. The consequences of this disparity are dire, with the Government Accountability Office estimating that VACC expenditures will rise to over $21 billion by fiscal year 2022, an increase of 45 percent from 2018. As such, our paper also proposes potential cost-reduction strategies the VA could employ to curb ballooning costs.
Working on this project was an incredible learning experience for me, and it sparked a passion for health economics that I am excited to continue exploring not only within medical school, but hopefully during my career as well. This experience also solidified my desire to practice medicine in an academic setting, and I am excited by the prospects of pushing the bounds of knowledge and hopefully serving as a mentor myself one day.
What advice would you give to prospective medical students?
Don't be a box checker. Don't seek the path of least resistance. At the risk of sounding cliché, be unapologetically you.
Once you're in medical school, don't lose focus of the larger picture. It's easy to get lost in a sea of details if you don't contextualize what you learn within the ultimate goal of patient care.