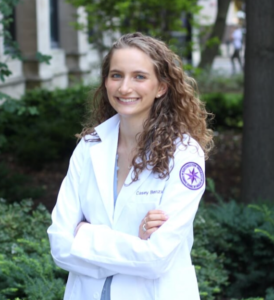 Casey Benzaken, a second-year dual-degree MD/MPH student, is studying the attitudes towards flu vaccines of Northwestern University undergraduates, with the goal of improving vaccination rates among students in Evanston.
Read a Q&A with Benzaken below.
Why did you choose Feinberg?
I chose Feinberg because of the opportunity to get my Master of Public Health concurrently with my medical degree. I also really enjoyed my interview day. I think the curriculum is thorough and well-balanced. The faculty are incredible so far, and I have enough time for things outside of school such as research, shadowing, personal hobbies and spending time with friends.
I also think a lot of my classmates would agree that the Education-Centered Medical Home (ECMH) is a highlight of the curriculum and something I look forward to every other week. Finally, Feinberg's campus and teaching facilities are so beautiful and the location by the lake is unbeatable.
Where are you from and where did you attend undergrad?
I am from Connecticut and I attended undergrad here at Northwestern University. I majored in biology and minored in global health studies.
What are your medical or research interests?
During undergrad, I was curious about the systemic structures that affect health and that led to me to an interest in public health. In my junior year, I was fortunate enough to join the Young Research Group, which focused on maternal and child global health research. My first independent project focused on developing a metric to quantify vaccination adherence. I also had the opportunity to go to Kenya for a summer to work on a project examining pre-exposure prophylaxis (PrEP). I am so thankful for these experiences, since they provided the foundation for my future interests and research skills.
Right now, I am interested in infectious diseases, primarily regarding attitudes and perceptions about vaccines. This summer, I am working with faculty at Feinberg to learn more about undergraduate perceptions regarding flu vaccines and to provide an easy and convenient setting to receive the annual flu shot. Outside of infectious diseases, I enjoyed the pulmonology unit during our first year of school and also have an interest in reproductive health. I could see myself pursing any of these fields in the future.
Do you participate in any organizations or societies at Feinberg?
I am the co-president of the Infectious Disease Interest Group. Our group primarily tries to connect students interested in infectious disease medicine to different resources, shadowing experiences and learning opportunities. For example, this past spring, we hosted a talk by Dr. Shelly Flais about approaches to counseling vaccine-hesitant parents.
I am also in the Buddy Program through the Mesulam Center, where medical students are paired with an older adult living with early-stage Alzheimer's dementia. This was a fun experience to make a friend and get to know someone outside of the clinic setting.
The last organization I am involved in is NU-Feinberg Connections, where I mentor three undergraduate pre-medical students. We check in with each other occasionally throughout the year to catch up and I try to be a resource for answering any questions the students may have. I was in NU-Feinberg Connections when I was a pre-medical student at Northwestern and my Feinberg mentor was very helpful, so it is nice to "pass it on."
What has been your most rewarding experience?
My most rewarding experience since starting medical school has been being a COVID-19 vaccinator. I have volunteered at Northwestern Memorial Hospital in Chicago, at Northwestern's Evanston campus and also through Cook County Hospital. I can't describe how amazing it is to see the excitement and relief on people's faces when they get vaccinated. It is also really rewarding to talk to people who are nervous about getting the vaccine.
When I was a kid, I actually used to faint when getting my vaccines at the pediatrician, so I can relate to people who are upset or anxious. I like to tell this story because getting vaccinated can be a difficult decision for some people, so I try to be a source of information and comfort in what can be a stressful situation. With the quick development of these COVID-19 vaccines, it's a unique situation because skepticism of these vaccines is high, but lots of people are also seeing the value of getting vaccinated. It also makes me think broadly about public health messaging, where people are getting their information and health literacy in general.
What advice would you give to prospective medical students?
My advice is to do things that you are passionate about rather than checking all the boxes you think you need to get into medical school. I think the factor that made my application strong was that I was genuinely excited about the projects with which I was involved.
My other piece of advice is to take any and all opportunities to get clinical experience that involves listening to patients and learning from their experiences. I draw upon my past interactions all the time in medical school to help build a good connection with patients that I see in the clinical setting.