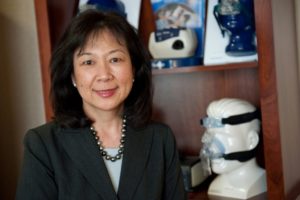 Phyllis Zee, MD, PhD, GME '87, the Benjamin and Virginia T. Boshes Professor of Neurology, has received the Lifetime Achievement Award from the National Sleep Foundation (NSF). The award recognizes contributions to sleep medicine and the public health mission of the NSF.
Zee is the director of the Center for Circadian and Sleep Medicine and chief of sleep medicine in The Ken and Ruth Davee Department of Neurology; she said the award recognizes Feinberg's influence in the field of sleep medicine.
"Who would have thought 10 years ago that there would be a field of circadian medicine?" Zee said. "Recognition by one's colleagues is one of the greatest honors in an academic career."
Zee's research focuses on understanding the mechanisms linking sleep and circadian rhythm disturbance with risk for cardio-metabolic and neurological disorders, as well as understanding the etiology of circadian rhythm sleep-wake disorders. Currently, the research in her lab ranges from basic science studies on how changes in the timing of food intake and microbiome affect sleep, metabolism and cognition, to developing novel approaches to improve sleep and circadian function.
"There is mounting evidence that sleep and circadian rhythms play essential roles at the molecular, cellular and physiological levels for maintenance of mental and physical health," Zee said. "The fact that sleep and clocks regulate these processes at the genetic and cellular level in nearly all tissues highlight the broad implications for disease prevention across the lifespan."
Zee is also the founder of the first circadian medicine clinic in the U.S., which provides novel approaches for the diagnosis and treatment of circadian rhythm sleep-wake disorders. The clinic is part of the Northwestern Medicine Sleep Health Centers, which provides diagnosis and treatment of sleep disorders, including sleep apnea, periodic limb movement disorder, nocturnal behavior disorders and narcolepsy.
"There has been a notable uptick in recognizing the importance of sleep and circadian health, and relatively speaking, an explosion of exciting pre-clinical, clinical and epidemiological findings that have gained attention from the medical community, public and press," Zee said.
The NSF is dedicated to improving health and well-being through sleep education and advocacy. Founded in 1990, the NSF is committed to advancing excellence in sleep health theory, research and practice.