On Friday, March 19, fourth-year students eagerly monitored their email inboxes to learn about the next step on their medical journey. Waiting for the page to load felt agonizing for some, including Megan Perez, but the moment represented the culmination of a lifelong desire to help others.
"I wanted to find a specialty where I could improve the quality of life of my patients," said Perez, who matched into plastic surgery at Northwestern McGaw Medical Center. Her interest in the specialty was sparked during a rotation where she worked with patients undergoing breast reconstruction after cancer.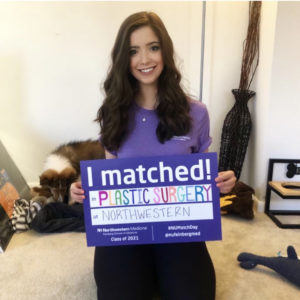 "I realized that I could help patients feel normal again," Perez said. "That was so powerful for me — it reminded me of my mother and her battle with melanoma — and it's a place where I felt I could make a big difference."
On Match Day, an annual tradition held on the third Friday of March, all fourth-year medical students across the country learn — at the exact same time — where they will train as residents for the next three to seven years.
Students viewed their match online and celebrated virtually, following public health measures restricting public gatherings due to the COVID-19 pandemic. Before matches were revealed, students joined a video chat hosted by the Augusta Webster, MD, Office of Medical Education (AWOME), where they were congratulated by Marianne Green, MD, the Raymond H. Curry, MD, Professor of Medical Education and vice dean for Education.
"We are all so excited for you, and I can tell you that your class has made Feinberg a better institution," said Green, who is also co-director of the Center for Medical Education in Data Science and Digital Health at the Institute for Artificial Intelligence in Medicine and a professor of Medicine in the Division of General Internal Medicine and Geriatrics.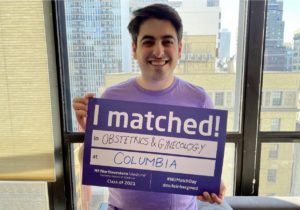 Residency matches are made by the National Resident Matching Program (NRMP), which uses an algorithm to pair graduating medical students with available training positions at U.S. teaching hospitals. The model takes into account the top choices of both the students and the residency programs.
This year's match took place mostly virtually — because of pandemic travel restrictions and stay-at-home orders, many students matched for their residency at programs they never saw in-person or in cities they didn't have a chance to visit.
Beyond the match, students had also experienced an academic year unlike any other; clerkships at Feinberg were briefly halted in March, many lessons were transitioned to virtual learning, and telehealth was suddenly and drastically incorporated into many clinical rotations and clerkships.
"These students' perseverance through these circumstances is a testament to their creativity and drive," said Susan Goldsmith, MD, '08 GME, associate dean for student affairs and assistant professor of Obstetrics and Gynecology in the Division of General Obstetrics and Gynecology.
"It is so exciting to see our students successfully match — this day is the culmination of years of hard work, sacrifice and selflessness; it truly is the realization of a lifelong dream," said Goldsmith, who is also director of the Obstetrics and Gynecology clerkship. "I have every confidence they are ready to become the physicians that our world needs. "
Even during the pandemic, students had the opportunity to make a difference in a clinical setting. Hooman Azad, who matched into obstetrics and gynecology at Columbia University Irving Medical Center, has already helped deliver a handful of babies during his clinical experiences.
"It's such an incredible experience every time; that first moment you share with the family is so special," Azad said. "Feinberg did a good job of getting us back into the hospital as soon as it was safe, making sure we had everything we needed to take care of patients both with and without COVID."
This caregiving mentality also spurred Raheem Bell to apply for general surgery residencies, and he matched at Northwestern McGaw Medical Center.
"As a general surgeon, you deal with some of the sickest patients in the hospital," Bell said. "You can help restore function and health to these patients, and that is something I want to be a part of."
Even in these unusual circumstances, students found ways to celebrate their success as medical students, and to look forward to their first few years as physicians.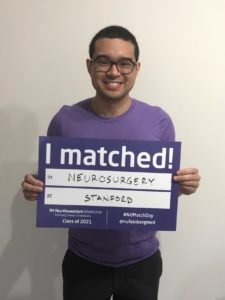 Madeline Miller, who matched into physical medicine and rehabilitation at Northwestern McGaw Medical Center, had decorated a large map of the U.S. with the locations of residency programs to which she applied. Pinning a large gold star on Chicago, she said she's happy to remain a Wildcat.
"I've wanted be in physical medicine and rehabilitation since before coming to medical school, and I'm excited to stay at Northwestern where I have great friends, mentors and a family surrounding me," Miller said.
Other students were thinking back to mentorship experiences at Feinberg, including Jonathan Lamano, who matched into neurosurgery at Stanford Medicine. Lamano's first mentor at Northwestern was Andrew Parsa, MD, PhD, the former chair of Neurological Surgery who passed away in 2015.
"I mentioned to him I was interested in neurosurgery and he said: 'If you're interested, come meet me in my office tomorrow,' and that was the first day of medical school," Lamano said. "Now that I'm coming near the end and getting a concrete start on this journey, I'm definitely thinking of him."
View the full list of match results here.