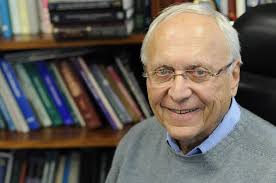 Northwestern Medicine investigators discovered that nuclear surface proteins called nuclear lamin isoforms regulate the position and organization of nuclear pore complexes, according to a study published in the Journal of Cell Biology. The findings advance the understanding of molecular mechanisms behind genetic mutations and the rare diseases they can cause.
Robert Goldman, PhD, professor of Cell and Developmental Biology and of Medicine in the Division of Pulmonary and Critical Care, was senior author of the study.
On the surface of the cell's nucleus is the nuclear lamina, a mesh-like network made up of a family of fibrous proteins called the nuclear lamins, located near the inner part of the nucleus' double membrane. Also embedded within the nuclear lamina are nuclear pore complexes (NPCs), which are made up of 30 distinct proteins and cross the nucleus' double membrane. NPCs allow small molecules such as ions and proteins to pass into and out of the nucleus.
While investigators have hypothesized that NPCs and lamins interact in a certain way, the molecular basis of these proposed interactions has previously remained unknown, according to Goldman.
Using structured illumination microscopy, the investigators made three-dimensional reconstructions of the nuclear lamina — a thin layer on the nuclear surface measuring a mere 14 nanometers — from mouse embryo fibroblasts. From this high-resolution dataset, they observed that certain components of NPCs are indeed essential for their organization within the meshworks of the nuclear lamins.
Next, the team used electron cryotomography to further analyze the images of interactions between individual lamins and NPCs, discovering that the nuclear lamins anchor and position NPCs as well as regulate the number of NPCs on the nuclear surface.
According to Goldman, only until recently have nuclear lamins become a topic of interest amongst investigators, when previous work found that genetic mutations in the nuclear lamin A gene cause many rare diseases, including muscular dystrophy, dilated cardiomyopathy and progeria, a disease which causes premature aging in children.
"How the lamins interact with the genome has definitely become an area of great interest in cell biology," said Goldman, who is also a member of the Robert H. Lurie Comprehensive Cancer Center of Northwestern University.
Goldman said his team and their collaborators are now studying how nuclear lamins connect DNA to the nuclear surface, and how lamins may regulate the conversion of heterochromatin (inactive condensed DNA) to euchromatin (chromatin active in DNA transcription).
Co-authors include Stephen Adam, '86 PhD, associate professor of Cell and Developmental Biology;  Yixian Zheng, PhD, director of the Department of Embryology at the Carnegie Institution for Science;  Ohad Medalia, PhD, associate professor of Biochemistry at the University of Zurich and Khuloud Jaqaman, PhD, assistant professor of Biophysics at the University of Texas Southwestern Medical Center.