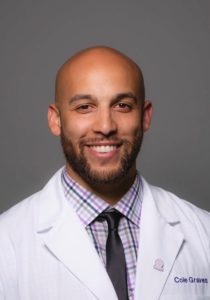 Cole Graves, a third-year student in the Doctor of Physical Therapy (DPT) program, says he is interested in sports rehabilitation or neurological and vestibular therapy, calling his experience with the latter "some of the most humbling, yet exciting, work I have done."
Read a Q&A with Graves below.
Where are you from and where did you complete your undergraduate studies?
I am from Kirkland, Wash. and attended Central Washington University as a student-athlete.
Why did you choose Feinberg for DPT?
I chose Northwestern's DPT program for several reasons. The main reason was the possibility of learning from some of the world's smartest minds in rehab and research. Northwestern's DPT program is a top-ranked physical therapy (PT) school nationally that I felt would provide me with opportunities both while I was in school and beyond. Also being from the Pacific Northwest, getting out and experiencing a different part of the country was extremely compelling.
What are your medical or research interests?
At this point, I have a wide variety of interests in the field. Since I am a former athlete who endured an injury in college that required surgery and months of rehabilitation, sports rehabilitation is very appealing to me and is something that I can see myself doing after I graduate.
However, after my clinical experience, I am now also interested in neurological and vestibular PT. Working with patients who have Parkinson's disease or are recovering from a cerebrovascular accident (CVA) was some of the most humbling, yet exciting, work I have performed. The question is now, how do I intertwine all of my interests together?
Are you involved with any student groups?
I have the honor of being involved in the Black Student Committee at Northwestern DPT. My fellow Black PT peers started this group as a way to connect and provide a safe space for us to gather in and talk about the stressors of life and PT school.
Now, we try to meet once a month on a Zoom call when schedules allow. We spent a lot of time on Zoom calls during the George Floyd unrest, which really brought us all together and gave us a safe place to meet and discuss our personal experiences.
Do you have any advice for aspiring DPT's?
I think the one piece of advice I have for aspiring DPTs is to always believe in yourself. Having this belief and confidence that you belong in the field, that you are smart enough, and that you were meant to help change the world, will help you to tap into your full potential!