In two recent publications, Northwestern Medicine investigators have made valuable contributions to the evolving understanding of treatments for COVID-19. Working with large, multicenter teams, Northwestern clinician-scientists examined treatments for blood clotting in critically ill patients with COVID-19 and explored therapies that could reduce disease progression and hospitalization.
Hypercoagulability in Critically Ill Patients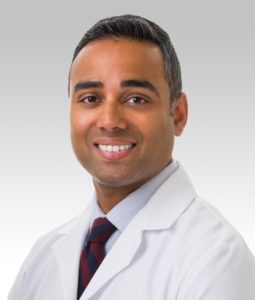 Early treatment with anticoagulation did not improve survival for critically ill patients with COVID-19, according to a study published in the Annals of Internal Medicine.
Hypercoagulability leading to blood clots may be a key mechanistic pathway that leads to mortality in seriously ill patients with COVID-19, so testing an effective therapy is vital to ensure these patients survive, according to Anand Srivastava, MD, MPH, assistant professor of Medicine in the Division of Nephrology and Hypertension and a co-author of the study.
"Our findings in this observational study highlight the need for adequately powered randomized clinical trials of therapeutic anticoagulation in critically ill patients," Srivastava said.
Patients with COVID-19 sometimes develop hypercoagulability, which manifests as blood clots or clotting of circuits in machines used for dialysis or oxygenation. Observing this high rate of blood clots in clinical practice had led physicians to consider anticoagulation as a treatment strategy, but there was limited data on the efficacy of preemptive anticoagulation, Srivastava said.
Out of the nearly 3,300 patients examined in the study, six percent of critically-ill patients with COVID-19 developed venous thromboembolism (VTE) and nearly three percent had a major bleeding episode. They also found that male sex and higher D-dimer levels at the time of ICU admission were independently associated with a higher risk for VTE.
Analyzing data from more than 65 hospitals, the investigators found that early therapeutic anticoagulation did not improve survival.
These findings provide more representative data from across the U.S. about the burden of hypercoagulability in critically ill patients with COVID-19, and demonstrate that a more powerful trial is needed to test the effectiveness of anticoagulation therapies.
"The ability of COVID-19 to affect multiple organ systems may complicate therapeutic strategies, so we need to further explore the mechanistic pathway leading to hypercoagulability and test therapies in randomized trials," Srivastava said.
Combination Therapy for Mild to Moderate COVID-19
Treatment with bamlanivimab and etesevimab reduced viral load in patients with mild to moderate COVID-19, according to a study published in the Journal of the American Medical Association (JAMA).
These findings show the combination could be an option to prevent medically vulnerable patients from progressing to more severe disease, according to Valentina Stosor, MD, '93 '95 '97 '98 GME, professor of Medicine in the Division of Infectious Diseases and a co-author of the study.
"There is great need for therapeutic agents that can be delivered to people with mild or moderate COVID-19, especially those with high-risk medical conditions, to prevent progression to more severe disease requiring hospitalization," said Stosor, who is also a professor of Surgery in the Division of Organ Transplantation.
Currently, there are no treatments approved by the Food and Drug Administration for mild or moderate COVID-19 infection, though some therapies such as convalescent plasma and monoclonal antibodies have emergency use authorization. Even as vaccines roll out, therapies that reduce viral load and prevent progression to severe COVID-19 could curtail mortality and reduce burden on the healthcare system from hospitalizations.
Bamlanivimab and etesevimab are two monoclonal antibodies derived from patients who recovered from COVID-19, each binding to different receptors which could increase the combination's effectiveness against new and emerging variants of COVID-19, according to the study.
In this phase II clinical trial, the combination therapy significantly decreased viral load at day 11 compared to a placebo, while bamlanivimab alone showed no significant difference. Additionally, patients who received combination therapy had a lower rate of hospitalization than those who received a placebo — 0.9 percent versus 5.8 percent.
"Further study is needed to determine full clinical benefit of this therapy, especially in medically vulnerable patients at highest risk for hospitalization with and death from COVID-19," Stosor said.
This trial was sponsored and funded by Eli Lilly and Company.