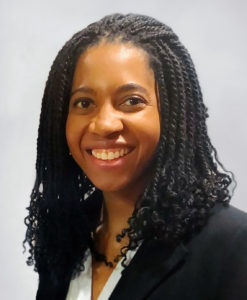 Nayo Hill, PT, DPT, a student in the Doctor of Physical Therapy/PhD Engineering dual-degree program (DPT/PhD), recently defended her dissertation on the use of probes to explore the neural mechanisms driving movement impairments following brain injury.
Read a Q&A with Hill below.
Where are you from and where did you attend college?
I grew up in Potomac, Maryland, a suburb of D.C. and close to the main campus of the National Institutes of Health. I attended to Stanford University and earned a Bachelor of Science in biomechanical engineering.
Why did you choose Feinberg for physical therapy?
I chose Feinberg for the unique dual-degree DPT/PhD program where I could pursue both engineering and physical therapy. As an early biomedical engineering student conducting my research in the Department of Physical Therapy and Human Movement Sciences, I was introduced to several faculty in the DPT program engaged in clinically relevant research. This piqued my curiosity.
I was familiar with the outpatient side of physical therapy but it was the shadowing opportunities I had in neurology and pediatrics at a local rehabilitation hospital that opened my eyes to the breadth of the physical therapy profession. In my second year as a PhD student, I decided to switch into the dual-degree program. I am so happy that I did because I thoroughly enjoy applying my problem-solving brain to patient care.
What are your clinical or research interests?
My clinical and research interests are both focused in pediatrics. When I began PT school, I was continually drawn to the pediatric population. Specifically, I'm interested in understanding the neural mechanisms involved in initial movement acquisition and altered movement patterns after brain injury.
My research focus for my PhD work was quantifying upper extremity motor impairment in those with pediatric hemiplegia due to perinatal stroke or cerebral palsy. During my training at Northwestern, I learned to use engineering tools to characterize movement. My future goal is to translate this knowledge into the selection and development of interventions that target the underlying mechanism.
Do you have any advice for aspiring DPTs or dual-degree students?
The dual-degree opens up opportunities for both research within physical therapy and clinically focused engineering research. I definitely encourage aspiring DPTs and DPT/PhDs to talk to current and recent graduates of both programs to get a wide sample of experiences when deciding if either path is the right fit.
My clinical training has given me exposure to the high demands of clinical practice in a rehabilitation setting which I can incorporate as I embark on the challenging task of translational research. Additionally, my dual training has influenced the way I think about human movement and how I develop my research questions.
Being a clinician-scientist is a rewarding path and places you at the intersection of patient care of today and the potential for patient care of the future. It necessitates an excitement for being a lifelong learner as you will always be learning from patients, clinical co-workers, scientific colleagues and the literature. It is a long road of training but definitely a worthwhile investment!