Northwestern Medicine investigators have identified a novel "gate latch" molecular interaction within the Orai1 channel, an ion channel that is essential for proper activation of the immune system, according to findings published in the journal eLife. The findings may also help improve the understanding of immunotherapy drugs that aim to target these channels.
"Orai channels are the main route by which cellular calcium signals are generated in immune cells so there is lot of interest in understanding how Orai channels open and close. This work was focused on understanding the molecular motions within the channel that mediate the opening and closing of the Orai1 ion channel pore," said Murali Prakriya, PhD, professor of Pharmacology, a member of the Robert H. Lurie Comprehensive Cancer Center of Northwestern University and senior author of the study.
Priscilla Yeung, '18 PhD, a fourth year medical student in the Medical Scientist Training Program (MSTP), was the first author of the study.
Calcium ions flowing through the Orai1 protein are critical for activating immune cells to fight bacterial, viral and fungal infections. Previous work has found that calcium influx through these channels is controlled by a gate formed by two rings of hydrophobic amino acids.

When the gate is closed, it blocks water and ions from flowing through the channel. But when the gate is open, the oily, hydrophobic amino acids move away so water and ions can flow through. However, the molecular signaling mechanisms that control this opening and closing of the gate, has remained unknown, according to the authors.
Using experimental and computational approaches, the investigators identified a novel molecular motif formed by an amino acid called methionine, which acts as a "gate latch" through specialized interactions with the channel gate. This allows for the opening and closing of the gate and helps control the ion conducting pore of the channel.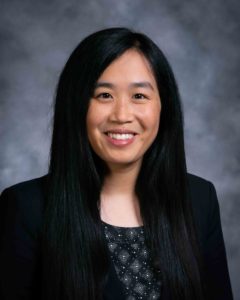 Methionine is unique in that its length, flexibility, and sulfur group can be used to stabilize many proteins in the body. These features make this amino acid especially suitable for interacting with and operating the ion channel gate, according to the authors.
"Sulfur-aromatic interactions are very commonly seen in other types of proteins, but this is the first time that it's been described in an ion channel, and importantly, observed to play an active role in the opening of the channel pore," Yeung said. "Determining how the channel pore opens and closes is an important piece of the puzzle towards understanding the operational mechanisms of this calcium channel."
Yeung said the team is hopeful that their findings may be used for clinical applications down the road when designing new immunotherapy drugs to target these channels.
This work was funded by the National Institutes of Health grants NS057499, F31NS101830 and GM114210.