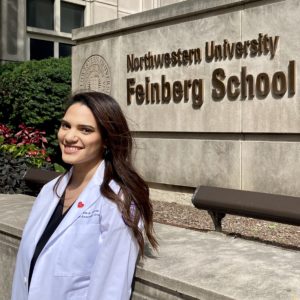 The racial, ethnic and economic inequities of America have been thrown into sharp relief by the unequal burden of the COVID-19 pandemic. Coupled with a summer of activism for those same inequities, these crises were a call to action for Rosalia Garcia, a first-year student in the Physician Assistant (PA) Program.
Garcia, who has spent time providing care to underserved communities in rural India, turned her energy to issues in the United States, establishing a dialogue program for PA students and taking a leadership role in the Students for Patient Advocacy and Research in the Community (SPARC) group.
Where are you from and where did you attend undergrad?
I am originally from Havana, Cuba and immigrated to the U.S. when I was two years old. I grew up in Louisville, Kentucky. I attended Florida International University, where I majored in psychology and minored in chemistry.
Why did you choose Feinberg for PA school?
Northwestern's unique problem-based learning curriculum caught my attention. I thought it would strengthen my case-based critical thinking skills and provide me with the necessary tools to confront the unpredictable nature of the medical field.
Additionally, getting to know the faculty during interviews made me feel confident in their commitment. They showed how invested they were in the program and its students.
Ultimately, what spoke to me the most was the inclusion of medical Spanish in the curriculum and how this reflected the program's responsiveness to the changing patient demographics in the U.S. Perhaps a small detail, but it made the program stand out above many other great institutions. These factors, combined with the diverse patient base found in Chicago, made my decision an easy one.
What are your medical interests?
Before starting PA school, I had the opportunity to participate in a global health fellowship at the Public Health Research Institute of India (PHRII) in the city of Mysore. PHRII works to provide inexpensive and quality reproductive health services for low-income women in the underserved city of Mysore and its surrounding villages.
Having the opportunity to work with these underserved communities shaped my motivation to become a PA; one that provides quality care regardless of the nature of the population, the setting or culture. As a future PA, I plan to focus greatly on the importance of healthcare delivery within underserved communities.
Can you tell me a little bit about Shades of Purple? What drove you to start this dialogue series?
The class of 2022 started the Shades of Purple program in a period of particular social unrest. Our student board society decided to create the role of Student Diversity Committee Representative, one responsibility of whom was "bi-monthly dialogues." Having seen their support of one another during these trying times, I was confident that they would make the most out of these dialogues and enrich the collective consciousness of the cohort.
The name Shades of Purple alludes to our school colors — even though we are united by the same hue, we may exist in different shades and we each have a unique backstory. It is this richness in perspectives that gives birth to the name, and so far, the students have really lived up to it.
Our last conversation, regarding the HIV crisis in the Latinx community, was very interactive and eye-opening for many students, as they opened up about their personal beliefs, biases and experiences without fear of being judged. At the end of the day, Shades of Purple is all about the students and their perspectives — I just ask the questions.
Can you tell me about your involvement in Students for Patient Advocacy and Research in the Community (SPARC)?
I came across SPARC while listening to an installment of the Intersectional Justice talk series hosted by Dr. Sadiya Khan, which focused on the ongoing health disparities in the Chicago area.
SPARC strives to empower students to remain proactive in improving health outcomes, to collaborate with communities looking to achieve health equity and to activate themselves as advocates for patients at all levels from practice to policy.
As an External Relations & Publicity chair, I primarily worked on promoting our recent conference, Evolving Systems: Advocacy in the Modern World. It took place virtually on December 5th and students had the opportunity to learn about the many different ways to advocate for patients within a modern context- especially with how COVID has moved activism online.
Do you have any advice for aspiring PA's?
As a very methodic and disciplined person, I want to say: study and get your patient care hours, eat your vegetables and sleep well. But ultimately, the best piece of advice I can give is to be yourself.
Embrace and share your own story! Everyone's journey is different, and we are all better because of it. You may not know it, but you may inspire people just by being yourself. Learn to draw confidence from it and everything will come naturally. The world is made richer by your perspective, not your grades!​