Second-year medical students Jeff Clark, Steven Hoffman and Nathan Shlobin are the co-authors of a first-of-its-kind study recently published in Annals of Clinical and Translational Neurology, which found that more than 80 percent of patients hospitalized with COVID-19 experienced some form of neurological manifestations.
Additionally, more than a third of the 509 patients studied experienced encephalopathy, when the disease affects the function or structure of the brain. The study, which has garnered international media attention, is also the first to examine neurological manifestations from COVID-19 in patients from a major U.S. city.
The study was led by Igor Koralnik, MD, chief of Neuro-infectious Disease and Global Neurology in the Ken and Ruth Davee Department of Neurology. Koralnik oversees the Neuro COVID-19 Clinic at Northwestern Memorial Hospital, of which Clark, Shlobin and Hoffman are team members.
Read a Q&A with Clark, Hoffman and Shlobin to learn more about their study, the Neuro COVID-19 Clinic, and how the pandemic has changed their perceptions of medicine and medical education.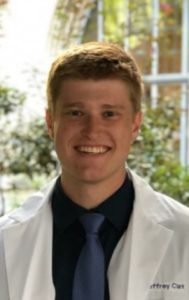 What is the Neuro COVID-19 Clinic and how did you get involved?
Clark: I had emailed Dr. Koralnik back in April to talk about potential research opportunities, especially looking ahead into the summer when we'd have some time away from class, and was interested broadly in infectious disease as well as neurology or neuroscience. As COVID-19 cases were beginning to fill up the hospitals, Dr. Koralnik had been in touch with two neurocritical care doctors, Ayush Batra and Eric Liotta, who were also the two lead authors on this paper. The three of them had been discussing what it was like to take care of the COVID-19 patients in the hospital, and the four of us decided to start retrospectively collecting data on this cohort of patients.
When we realized this was going to be a pretty large undertaking, I asked Nathan and Steven if they wanted to join because the three of us had worked together in the past and I knew that they had specific interests related to the brain and neuroscience.
At the time the clinic was formed, how much research had already been published regarding the neurological impacts of COVID-19?
Clark: Very little — there was basically just one paper from Wuhan, China, that we took inspiration from and another paper that came out later from Spain. We were also able to look back at some papers from the initial SARS outbreak, as well as the MERS outbreak, and Dr. Koralnik having studied neurovirology for a long time and his experience with the HIV/AIDS epidemic was also very useful.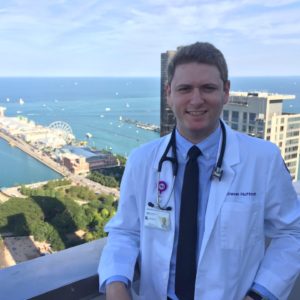 What was particularly notable from your findings?
Clark: One is that any neurological manifestations had affected just over 80 percent of patients by the end of their hospitalization. But I think more surprising, and slightly more impactful, is that about a third of patients experienced encephalopathy. It is surprising because encephalopathy can be pretty severe and debilitating to patients, so to see that it was affecting that many people is definitely concerning.
Hoffman: The timing of the release of the study also preceded a new spike of COVID-19 cases and really underscores the importance of how we characterize and understand this pandemic. If our work is able to reach a large audience and can further the understanding of how this disease works, I think that's for the good of humanity. But the work here is far from over. We have a new population that is going to need to be tracked for years to come, and we hope that this study can open up new research opportunities and inspire others to create their own research projects in their own cities. We need studies coming out of every corner of the United States right now to understand how every population is dealing with COVID-19.
Any next steps for you and the clinic?
Clark: We have a number of follow-up studies, as well as separate research projects going on. One paper I'm putting together is about movement disorders specifically among patients that receive neurologic consultation and the other paper is looking at risk factors for readmission.
Shlobin: I'm leading a project right now looking at the cerebral spinal fluid makeup in these patients.
Hoffman: In line with my interest in radiology, the study that I'm leading pertains to imaging in some of the same patients that we included in this original study. Some of these patients down the line have had repeat imaging, like brain MRIs, and we want to see months down the line if there are any changes in these patients.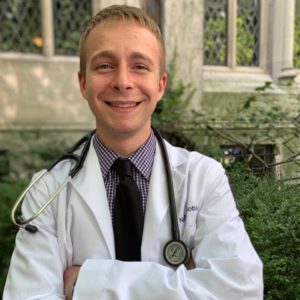 Has the pandemic changed the way that you think about medicine and medical education?
Shlobin: The pandemic has made our education as preclinical students more difficult through virtual classes, but our class leaders and professors are doing a good job of managing. Fortunately, the thing about being in school is that there is always work to do. In the grand scheme of things, a disrupted education is actually quite a small inconvenience with respect to what other people are going through. Education over Zoom is difficult, but the pandemic has reaffirmed the importance of our role as medical students and future physicians.
Clark: COVID has disrupted, ended and ruined a lot of lives. Overall, I feel very fortunate to have the opportunity to be in school, even though virtual is a change from we had been expecting. We still have the opportunity to do interesting work, learn interesting things and have some impact during this time.
Hoffman: Even though we're pre-clinical students, we still have clinical exposure, but in-person experiences are far more restricted, and telemedicine is more popular. I've actually had the opportunity to meet some patients who were hospitalized with COVID-19. They're now saying they've had neurologic manifestations after they were hospitalized and they're now telling us months down the line. So, if you or a loved one knows someone who has been experiencing prolonged neurologic complications, it wouldn't hurt to get in touch with the Neuro COVID-19 clinic. Even though there is a long wait list for patients to be seen, there really aren't many people other than Dr. Koralnik and his colleagues who are looking at these patients right now. There are also financial assistance programs available for these patients if they do not have insurance.