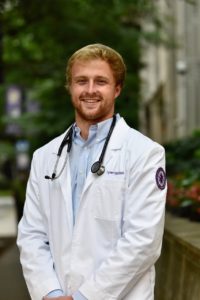 Tyler Gillikin lays claim to a title not many can: medical student-athlete. This fall, Gillikin began his first year of medical school while also playing long snapper for the Northwestern University Wildcats football team. Even though the start of the Big Ten season was delayed due to concerns about COVID-19, Gillikin is now pulling double duty, something he says he would not be able to do without support from coaches, athletic administrators and Feinberg faculty and staff.
Read a Q&A with Gillikin below.
Why did you choose Northwestern?
I was fortunate to be admitted to Feinberg under Northwestern's Undergraduate Premedical Scholars Program during my junior year. Through football, I was able to get to know several of the team's doctors, who also are Feinberg faculty and helped me learn more about the school.
One aspect of Feinberg's curriculum that I was particularly drawn to was the Education Centered Medical Home (ECMH), where M1s have the ability to work together with other students to provide care for patients starting just three weeks into medical school.
After four years in Evanston as a Northwestern undergrad, some have asked why I didn't consider other schools. Outside of playing football here right now, the school's location in downtown Chicago, 10 miles away from Evanston's campus, provides ample new experiences and challenges that accompany practicing medicine in one of the largest cities in the country.
Where are you from?
I was born and raised in Smyrna, GA, just outside of Atlanta.
What are your medical or research interests?
At this point, I am interested in orthopaedics. Playing football at Northwestern, as well as other sports growing up, provided great insight into the assessment, treatment and rehab involved with different injuries. My shadowing experiences helped me understand that athletic-related injuries are just one small part of what happens within orthopaedics; more importantly, it is about working to improve someone's way of life – their mobility or dexterity that makes a real difference.
On the other hand, as an M1 my exposure to many different specialty areas has been limited. I am looking forward to upcoming shadowing opportunities that introduce me to new experiences.
How have you balanced Big Ten football and medical school?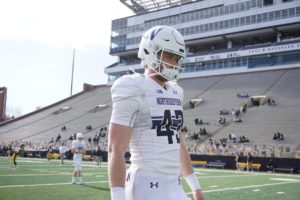 Any student-athlete that has been successful both in the classroom and on the field will say the key is developing strong time management skills. It helps that the idea to play my last year of football during the first year of medical school actually came from Pat Fitzgerald — Northwestern's head football coach.
Everyone from the position coaches to the football staff to athletic administrators have been incredibly supportive along the way. Now that the Big Ten football schedule is finally getting underway, the next couple of months are going to be intense and I am looking forward to the challenge.
What has been your most rewarding experience?
During my undergraduate career, I regularly spent time at Lurie Children's Hospital, interacting and playing with kids and talking to parents. After one mother found out that I planned on applying to medical school, she wanted me to know that as a trainee it's OK to say "I don't know," and go ask someone that does.
Her point was that parents just want to know the right information about their child and for people to be straight with them. The message was simple but powerful and I don't think I'll ever forget that conversation as a reminder to be honest with myself about what I actually know in order to best serve patients. Further, while my short time at Feinberg has so far consisted of mostly virtual classes, the in-person clinical experiences within ECMH have been invaluable and have given me a glimpse of what is to come.
What advice would you give to prospective medical students or student-athletes interested in medical school?
Plan well, since the most difficult thing for a lot of students — certainly most student-athletes — is finding time to take care of school, your sport or just life.
Finding research opportunities and shadowing or clinical experiences can take time, so start early and develop as many faculty connections as possible. One of the ways I got to know professors was through office hours: It's surprising how few students take advantage of that time because most professors enjoy developing those relationships.