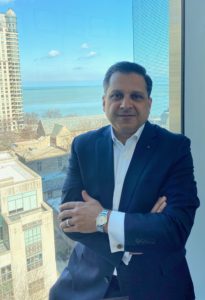 Northwestern Medicine scientists have discovered a "hidden" function of an epigenetic regulator, publishing their findings in the journal Genes and Development.
The regulator, a methyltransferase called Trr, helps stabilize a genetic domain called UTX. UTX is often mutated in cancers, raising the possibility that this regulatory pathway could be used to slow the growth of cancer, according to Ali Shilatifard, PhD, the Robert Francis Furchgott Professor, chair of Biochemistry and Molecular Genetics and senior author of the study.
"If we can somehow stabilize UTX in cancer cells, that could be a targeted therapeutic," said Shilatifard, also a professor of Pediatrics, director of the Simpson Querrey Institute for Epigenetics and a member of the Robert H. Lurie Comprehensive Cancer Center of Northwestern University.
Trr is one of three enzymes that make up the COMPASS family of proteins in Drosophila flies. COMPASS is an important epigenetic regulatory complex, determining which genes are expressed when.
The human equivalent of Trr — MLL3/4 — is often mutated in cancers, generating significant scientific interest in Trr's activity. A previous study from the Shilatifard laboratory made the surprising discovery that Trr's enzymatic function was not actually essential for proper development, raising the possibility that Trr affected gene expression through a different mechanism.
"We showed that you can have life without this activity," Shilatifard said. "But now you have this 4,000 amino acid-long protein — where is the business end?"
In the current study, the scientists performed a series of genetic screens, isolating different sections of the protein and testing if the flies survived with only that section. They whittled the "important" stretch of the protein down to just one domain: a series of amino acids that bound to and stabilized a protein called UTX.
Investigating this domain in the human equivalent of Trr — MLL3/4 — Shilatifard and his colleagues found it matched the pattern of gene expression seen in the fly models, binding to UTX.
"These experiments were months in the making and I was not even certain the screen would work; however, the day I identified the 'essential' Trr domain was truly exhilarating," said Ryan Rickels, PhD, a former doctoral student in the Shilatifard laboratory and lead author of the study. "After showing Trr's methyltransferase activity was dispensable, it was really exciting to see the scientific process play out and eventually uncover the domain that stabilizes UTX."
In many human cancers, MLL3/4 is mutated and dysfunctional, causing UTX to be unstable. According to Shilatifard, this may be a critical point in the cancer-causing mechanism of MLL3/4 mutations, and finding a way to stabilize UTX could be an effective treatment for these cancers.
Next, Shilatifard said he hopes to further investigate the function of UTX and search for drug compounds that could help stabilize the protein.
"We are following our noses and these results, trying to find a mechanism that can be applied in development of targeted therapeutics," Shilatifard said.
This study was supported by National Institutes of Health/National Cancer Institute (NCI) grants F99CA222988A, K99CA234434P and R50CA211428, and in part by NCI Outstanding Investigator Award R35CA197569.