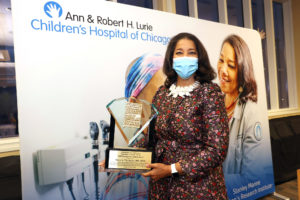 Alexis Thompson, MD, MPH, section chief of Hematology in the Department of Pediatrics, received the Distinguished Alumni Award from National Medical Fellowships (NMF), a non-profit organization that provides scholarships and other support for underrepresented minority students in medicine and health professions.
"I was surprised and deeply humbled," said Thompson, who is also the A. Watson and Sarah Armour Endowed Chair for Blood Diseases and Cancer at Ann & Robert H. Lurie Children's Hospital of Chicago and associate director for Equity and Minority Health at the Robert H. Lurie Comprehensive Cancer Center of Northwestern University. "NMF as an organization has supported generations of students, many of whom have gone on to make great contributions to medicine in terms of clinical care, advocacy, education and scientific discovery. I am very honored for their recognition of my contributions."
Thompson was presented with the award at the NMF 2020 Champions of Health Awards Chicago Virtual Event.
Born in Los Angeles, Thompson attended Pomona College and received her medical degree from Tulane University School of Medicine. She returned to L.A. and completed her residency at the Children's Hospital of Los Angeles, and later completed a fellowship in Pediatric Hematology-Oncology at the Children's Hospital of Philadelphia. She also earned a Master of Public Health degree at the University of California, Los Angeles.
There, she served as an associate professor of pediatrics before moving to Feinberg and Lurie Children's Hospital. At Lurie, she became the first medical and scientific director of Hematology.
Her clinical and scientific interests center on childhood blood disorders, such as thalassemia and sickle cell disease. Most prominently, Thompson led several international multi-center trials that showed gene therapy was an effective therapy for Thalassemia. These trials were published in the New England Journal of Medicine.
"Through her compassionate and innovative work in leading clinical advancements in hemoglobinopathies, Dr. Thompson personifies the exemplar role model for our future generations of professionals underrepresented in medicine," said Thomas Shanley, MD, president and chief executive officer of Lurie Children's Hospital, the Founders' Board Centennial Professor and a professor of Pediatrics in the Divisions of Pulmonary and Sleep Medicine and Critical Care.
Current treatments for thalassemia involve large and frequent blood transfusions — a burden that can create disparities in care. In that sense, finding a new treatment for the condition — along with Thompson's efforts in cancer care — dovetail with her efforts to reduce inequity in healthcare, Thompson said.
"As the associate director for equity and minority health for the Lurie Comprehensive Cancer Center at Northwestern, I have the privilege of working with colleagues that continue to identify disparities in the prevalence and outcomes in cancers among racial and ethnic groups that are often medically underserved and to look for different approaches to prevention, diagnosis and treatment that will begin to narrow these gaps," Thompson said.
Beyond clinical care and scientific accomplishments, Thompson has an intense interest in mentorship.
"She is devoted to helping train the next generation of underrepresented minority physicians, by blazing a multifaceted academic path for many others to follow," said Matthew Davis, MD, MAPP the Founders' Board Centennial Professor, chair of Pediatrics, and president and chief research officer of the Stanley Manne Children's Research Institute.
During its 75-year history, NMF has awarded more than $9.4 million in scholarships and other support to underrepresented minority students. It counts among its alumni more than 30,000 physicians and physician-scientists, part of its contribution to its overarching goal of ending systemic racism in America.