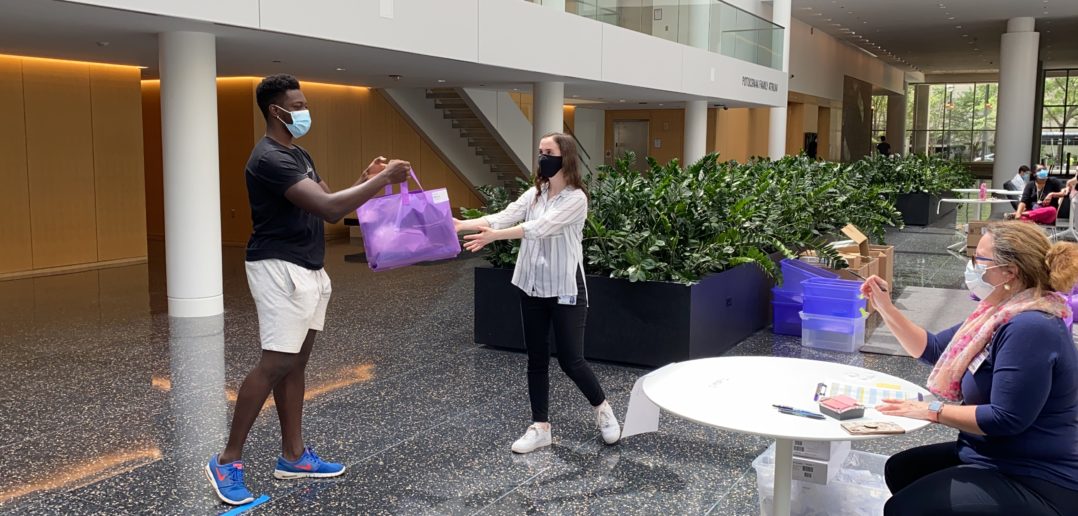 When the 160 students of the Class of 2024 stepped onto campus this month, they entered a new world of medical education. Following guidelines to slow the spread of COVID-19, students picked up their white coats and began attending their first socially-distant and online classes.
While the COVID-19 pandemic has forced medical schools across the country to rethink how they deliver education and clinical care, it has also highlighted the significant health disparities in the US and the importance of the role that physicians can play to address these disparities, according to Marianne Green, MD, senior associate dean and Raymond H. Curry, MD, Professor of Medical Education.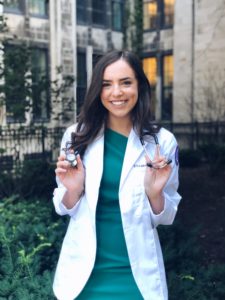 "Not only do we have a physician shortage in this country, but we also have a pandemic which has challenged the physician workforce tremendously and highlighted what is not working well in our U.S. healthcare system," said Green, who is also co-director of the Center for Medical Education in Data Science and Digital Health at the Institute for Augmented Intelligence in Medicine. "While foundational science and clinical skills remain a critical part of what students learn in medical school, we have also equipped them with the knowledge and tools to tackle some of the most challenging problems we face."
Students arrived in Chicago from all across the country, including Elizabeth Adams, who hails from Roxbury, N.J. Adams traveled to Feinberg's downtown campus to pick up her white coat — an experience that was the end of one journey and the beginning of another.
"I have wanted to go into medicine for ten years now, so finally being able to put on the white coat for the first time really was such a momentous occasion," said Adams, who attended The Ohio State University. "In the moment, I felt the culmination of years of hard work and my dream coming to fruition, as well as the great gravity of the honor and responsibility it is to wear the coat."
Other students didn't have to travel as far, such as Erick Masias, a first-year student who grew up on the North Side of Chicago. Inspired by his mother's experience with passionate healthcare workers, Masias chose Feinberg after speaking with current students.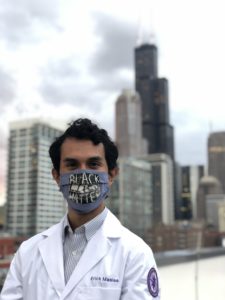 "They talked about how they were supported here and that the thing that drew them to Feinberg was the people," said Masias, who attended Middlebury College in Vermont. "I've been seeing more and more of that now. I also grew up in Chicago and I felt like there was no better place to have a solid support system to get me through these next four years."
At Feinberg, the first week of class takes a unique approach: Introduction to the Profession Week.  The week of activities is designed to introduce students to the core competencies that they will master during their time at Feinberg and to begin the process of professional identity formation.
These competencies include ethics, teamwork, communication, patient-centered care, quality improvement, and personal awareness and self-care. While traditionally held in-person, this year these classes were held virtually.
"I think I've been impressed with how well everything has gone so far, taking the dire circumstances into consideration," said Michael Chidueme, a first-year student from Potomac, Md.
In addition, the widespread protests and outcry ignited by the killing of George Floyd have renewed focus on how inequality impacts every aspect of American life, including health. Feinberg is committed to an inclusive curriculum that not only acknowledges implicit bias, but also gives students the tools to fight these injustices.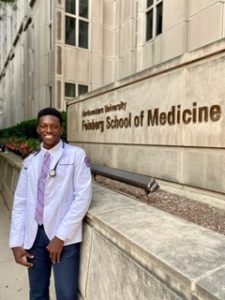 "This renewed momentum within social justice and advocacy, I think, has really exemplified the physician's role and medical student's role in advocating for our patients, our neighbors, and our communities within the hospital and beyond through policy and direct community organizing," Adams said.
At the end of the day, while certain aspects of medical education are different this year, the joy and commitment of new students remains the same, according to Green.
"The energy that new students bring to campus is infectious," said Green, who is also a professor of Medicine in the Division of General Internal Medicine and Geriatrics. "Every teacher loves to engage with excited and curious students. Many of our students have been preparing for years for the opportunity to realize their dreams of becoming a physician, and this year it is the same despite the different learning modalities we are employing during the pandemic."