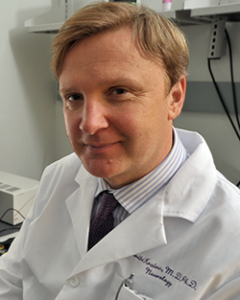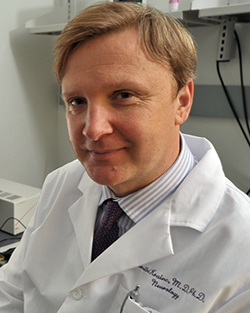 Contacts between organelles within cells drive the transfer of calcium from lysosomes to mitochondria, according to a Northwestern Medicine study published in the Proceedings of the National Academy of the Sciences (PNAS).
Calcium plays an important role in various mitochondrial functions and mitochondrial activity is disrupted in a variety of neurological disorders, so this regulatory pathway provides a blueprint for boosting mitochondrial function as potential treatment, according to Dimitri Krainc, MD, PhD, chairman and the Aaron Montgomery Ward Professor of Neurology and senior author of the study.
"The results from this study, as well as our previous work on mitochondria and lysosome crosstalk, are exciting because they suggest that by modulating lysosomal function, we may also be able to directly promote mitochondrial function," said Krainc, who is also director of the Simpson Querrey Center for Neurogenetics.
Organelles including the mitochondria and lysosome are specialized subunits within a cell, performing a variety of functions: energy production and the "garbage disposal" breakdown of large molecules, respectively.
While they are commonly thought to function separately, recent investigations have revealed a substantial number of these organelles are in contact with each other at any given time. These contacts are thought to both help maintain the environment within the cell and facilitate organelle function, as shown in Krainc's recent publication in Nature.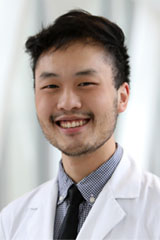 In the current study, investigators including Wesley Peng, a rising fifth-year student in the Medical Scientist Training Program (MSTP) and lead author of the study, used live-cell microscopy to identify mitochondria-lysosome contacts. When these two organelles "docked" together, the scientists observed calcium moving from the lysosome to the mitochondria, through a lysosomal receptor called TRPML1.
The investigators also observed disruption in this calcium transfer dynamic in cells from patients with mucolipidosis type IV, a lysosomal storage disorder with a prominent neurological phenotype that typically affects children. Confirming that this mechanism was altered in disease is an important first step in exploring the downstream implications, including its impact in a broader range of neurological conditions, according to Krainc.
A previous Krainc study published in Science showed the lysosome and mitochondria are misregulated in Parkinson's disease, and restoring mitochondrial function through lysosomal calcium transfer could be one way to ameliorate symptoms or slow progress of the disease.
"​​From a therapeutic standpoint, modulators of lysosomal function have garnered attention as potential therapies for neurological disorders," Krainc said.
Krainc's group demonstrated the effectiveness of this modulation strategy in a 2019 study published in Science Translational Medicine, by boosting lysosomal function in neurons derived from patients with Parkinson's disease.
"Whether disrupted mitochondria-lysosome contacts are observed in other diseases and whether the function of these contact sites can be modulated therapeutically will be the subject of future studies," Krainc said.
Yvette Wong, PhD, a postdoctoral fellow in the Krainc laboratory, was second author of the study.
All imaging was performed at the Northwestern University Center for Advanced Microscopy, supported by National Cancer Institute grant CCSG P30 CA060553. This study was supported by the National Institutes of Health, National Institute of Neurological Disorders and Stroke grants F30 AG066333, K99 NS109252, R01NS076054 and R37NS096241.