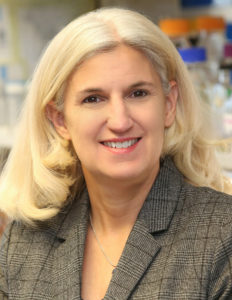 A chimeric toxin slowed tumor growth in mouse models of human breast and colon cancer, according to a Northwestern Medicine study published in Proceedings of the National Academy of the Sciences (PNAS).
The novel compound uses the targeting machinery from diphtheria toxin grafted to a protease that inhibits RAS, a signaling pathway implicated in as many as 50 percent of cancers. While this proof-of-concept might target all human cells, investigators are now modifying the diphtheria machinery to specifically target cancer cells in the hopes of creating an effective therapeutic, according to Karla Satchell, PhD, professor of Microbiology-Immunology and co-senior author of the study.
"We showed that this toxin reduced tumorigenesis and in some cases even shrank tumors," said Satchell, who is a member of the Robert H. Lurie Comprehensive Cancer Center of Northwestern University. "If we can target this specifically to cancer cells, taking out RAS might take out the cancer."
Many toxins can be classified as "AB" toxins, made up of an "activity" subunit, which attacks targets and a "binding" subunit, which seeks out and binds to targets. Scientists realized the therapeutic potential of these toxins more than 30 years ago, and replaced the binding subunit of diphtheria toxin with immune antibodies in a bid to fight cancer.
While these compounds did indeed home in on and attack cancer cells, the inefficient targeting meant healthy cells were also attacked, leading to significant negative side effects that limited their use. Attempts to instead attach new activity subunits to the diphtheria binding subunit failed, and scientists turned their eyes towards other possible treatments.
However, recent studies authored by Roman Melnyk, PhD, senior scientist in the Department of Molecular Medicine at the Hospital for Sick Children (SickKids) in Toronto, have shown the binding subunit is in fact malleable, and may offer a new scientific avenue. Melnyk is also co-senior author of the current study.
"For 30 years, nobody worked on it, and it turns out these old papers were wrong," Satchell said. "Now, our idea is to flip it around. Instead of using highly toxic diphtheria, let's swap it for something cancer-specific."
That '"something" turned out to be a peptide inhibitor that cleaves RAS, a signaling pathway that when mutated helps cancer cells proliferate. To test the RAS inhibitor's effectiveness, Satchell, Melnyk and colleagues grafted human breast and colon cancer cells onto mice and administered the chimeric toxin.
Because mice don't respond to diphtheria toxin, the chimeric toxin trafficked directly to the human cancer cells and slowed tumor growth, demonstrating the effectiveness of the RAS inhibitor.
Now, Satchell and her collaborators are working to modify the binding subunit to only recognize unique receptors found in cancer cells, such as EGFR, which is found in skin cancers.
"There's a huge amount of research on this," Satchell said. "There's no shortage of targets, because drug developers are always trying to target their drugs as specifically as possible."
If the binding subunit can be modified to traffic only to cancer cells, this chimeric toxin could be a seek and destroy weapon against cancer, Satchell said.
"Now we know it works, it's well worth our while to go figure out a targeting strategy," Satchell said.
This work was funded by the Lynn Sage Cancer Research Foundation, Northwestern University Clinical and Translational Sciences (which is supported by NIH/NCATS Award UL1TR001422), the Northwestern Medicine Catalyst Fund, the Robert H. Lurie Comprehensive Cancer Research Center, NIH grants R01CA152601, R01CA152799, R01CA168292, R01CA214025, the Avon Breast Cancer Foundation, the Zell Family Foundation, the Chicago Biomedical Consortium, the Searle Funds at The Chicago Community Trust, the SickKids Proof-of-Principal Funding and the Canadian Institutes of Health Research 366017, the PanCan/FNLCR Fellowship and the SickKids Restracomp Fellowship.