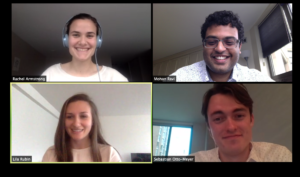 A group of fourth-year medical students have founded a volunteer organization to address food insecurity among vulnerable patient populations in Chicago during the COVID-19 pandemic.
The organization, called Fueling Our Communities, helps identify patients experiencing food insecurity and connects them with local food pantries and other resources, and is expanding to help Chicago clinics provide food directly to their patients.
"We realized a lot of our patients were having more difficulty obtaining food," said Rachel Armstrong, a fourth-year student and co-founder of the organization.
The economic downturn as a result of the COID-19 pandemic has hit vulnerable populations especially hard, something students saw in their phone calls and video chats with patients as their Education Centered Medical Home (ECMH) clinics went virtual.
Spurred by these experiences, a group of students set out to help. As part of check-in calls on ECMH patients, students identify patients at risk of or who are currently experiencing food insecurity. Many of these patients have comorbidities that preclude them from leaving the house and many food pantries are running low on supplies, so students created a database of pantries and food delivery services that's constantly updated.
"This organization is one of the many groups started as a way to continue to help our patients virtually," said Sebastian Otto-Meyer, a fourth-year student and co-founder of the organization. "This came out of work at our own primary care clinics, seeing patients who were stressing about their food needs."
In addition, Fueling Our Communities is partnering with other clinics in Chicago, such as CommunityHealth, a primary care clinic serving a poor and uninsured population on the west side of Chicago.
"These are patients who are living on the edge as a baseline, and the economic downturn has caused extreme food insecurity," Otto-Meyer said. "Much of this patient population is Spanish speaking, and they've expressed fear or worry about going to traditional food pantries."
To alleviate this problem, the student organization is raising money to expand food available onsite at the clinic. Fueling Our Communities is also partnering with the Northwestern Medicine Transitional Care Clinic for a similar onsite pantry, which will aid patients in the transition home after inpatient care.
"These patients often have complex medical and social needs, which can result in food insecurity," said Lila Rubin, a fourth-year student and co-founder of the group.
Fueling Our Communities has raised more than $3,000 of its $5,000 goal, and is seeking donations. Interested parties can also find the organization on Twitter and Instagram.