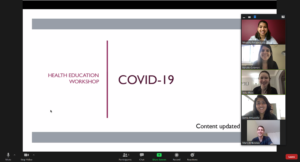 As the COVID-19 pandemic has continued to spread around the world, so has false information about the virus; motivated to help inform the public, a team of Feinberg medical students have begun holding online COVID-19 information sessions for community members and organizations across the Chicagoland area.
The COVID-19 Health Education Team holds weekly online information sessions about COVID-19, part of a larger volunteer effort organized by medical students and graduate students to help support the Chicagoland community during the COVID-19 pandemic.
Each online information session is run by two medical students on the team who are accompanied by a Feinberg faculty member. The session begins with a 20-minute PowerPoint presentation about COVID-19, followed by a 20-minute interactive Q&A session. Informational handouts with infographics discussing the epidemiology, symptoms, prevention and mental health aspects of COVID-19 are also available upon request.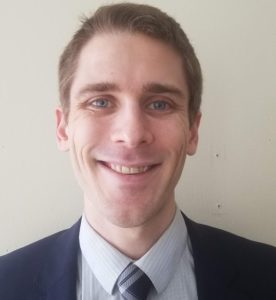 "When the pandemic began, I remember seeing a lot of misinformation and myths are regarding COVID-19 going around, and so I thought this would be a great way to help spread accurate information to the Chicago communities," said Mark Antkowiak, a fourth-year medical student and co-leader of the COVID-19 Health Education Team.
Co-leading the team alongside Antkowiak are fourth-year medical student Natalie Colaneri and second-year medical student Nivedita Potapragada.
"I wanted to help spread accurate information about COVID-19, but I also knew that as a now second-year student I couldn't do a lot of the clinical things that I saw some of the upperclassmen doing, so I wanted to figure out what I was able to do as a student that would best serve the community," Potapragada said.
The content for the presentations and informational handouts was developed by the co-leaders and team members, including second-year students Sonia Ahluwalia and Julia Moss, third-year student Maddie DeWinter, and Tanner Hoke, '20 MD. The initiative has now expanded to include several students across all years, with one group trained to give the presentations and another focused on community outreach.
So far, the team has delivered information sessions to various organizations and groups across Chicago, including Education-Centered Medical Home (ECMH) sites, the Chicago Park Foundation, city alderman, youth centers, and medical respite care shelters.
The sessions are regularly updated to reflect the most current CDC guidelines and COVID-19 research and are also tailored to meet the needs of each group of participants.
"We're working with people experiencing homelessness, we're working with youth populations, we're working with adult populations, so being able to tailor the information and update it with respect to each population we present to is an important part of the effort," Potapragada said.
The online information sessions have not only been educational for those who've attended, but also for the team members, who noted that giving the sessions has highlighted the socioeconomic disparities that exist across the Chicago as well as citywide need for accurate COVID-19 information.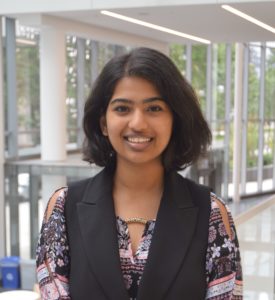 "These sessions have highlighted the inequities between different communities in Chicago. There are very different needs between communities, which is something that our team understood more as the project went on," Colaneri said.
The information sessions are currently offered in English, but soon will also be offered in Spanish and Polish, according to the co-leaders.
To attend an upcoming COVID-19 information session or to request COVID-19 informational materials, please fill out a sign-up form. For those who do not have access to Internet, sessions are also accessible by phone.
Community organizations that are interested in partnering with the COVID-19 Health Education Team should contact covid19healtheducation@gmail.com.