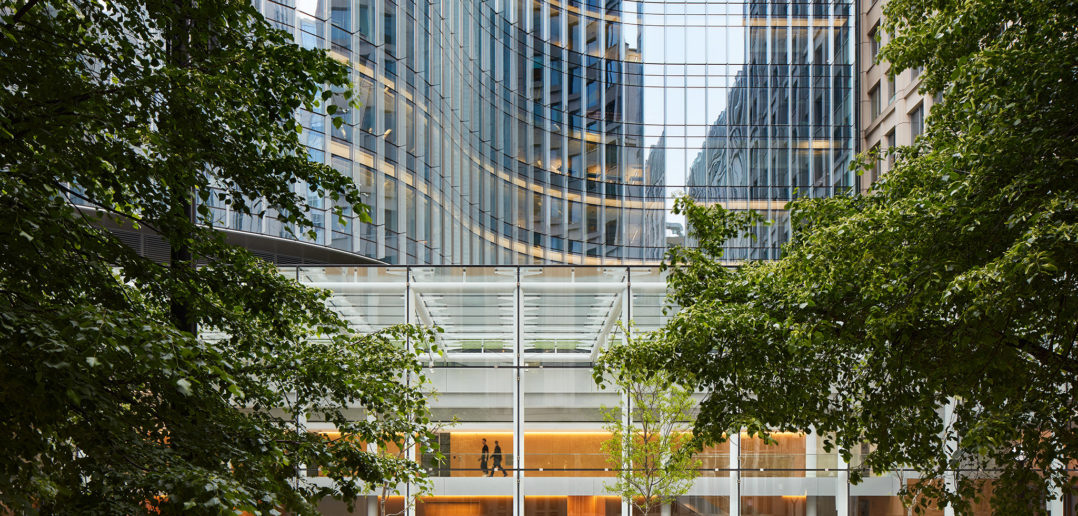 The Louis A. Simpson and Kimberly K. Querrey Biomedical Research Center has been certified LEED Gold by the U.S. Green Building Council for its environmentally responsible design and construction.
The Simpson Querrey Biomedical Research Center is the first new Feinberg building to receive a LEED certification, joining the LEED Silver certification earned by laboratory renovations in the Ward, Morton, Searle and Tarry buildings in 2014.
"This shows both Feinberg and Northwestern University's institutional commitment to sustainable building processes," said Jay Baehr, senior project manager of Facilities and Capital Programs at Northwestern University.
LEED certification measures environmental sustainability in architecture and construction in a variety of categories, including site location, water and energy efficiency, materials and resources used, and indoor environmental quality.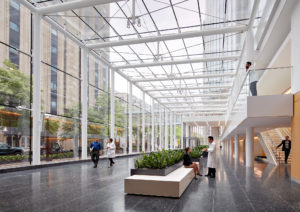 The Simpson Querrey Biomedical Research Center, opened in June 2019, is the largest newly constructed building solely dedicated to biomedical research at an American medical school. Designed by Perkins+Will, the curved glass-clad building added more than 625,000 square feet of research space to the Chicago academic campus, all of it engineered with sustainability in mind.
The building boasts reduced water and energy usage when compared to the baseline required by building codes, and used 20 percent recycled construction materials.
The building also features an innovative roof system: a "green roof," which reduces heat absorption, and a "blue roof" that can retain up to six inches of storm water — more than 123,000 gallons — for up to 48 hours.
"This investment saves substantial operating and management costs over time; much more than the cost of including them," said Eric Boberg, PhD, executive director for Research at Feinberg. "It's also the right thing to do in this era of climate change."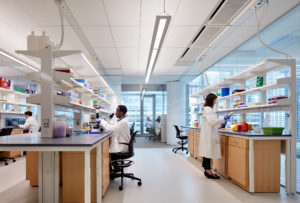 Each of the nine laboratory floors can house 23 research groups, 200 principal investigators in total. This would not be possible without space-saving design that makes 70 percent of the total square footage usable, a way to reduce the total footprint of the building.
"We squeezed every possible credit for a laboratory building that we could find," Boberg said.
The building includes floor-by-floor connections with the University's Robert H. Lurie Biomedical Research Center, as well as a new skybridge connection to the Searle Medical Research Building, enabling sensitive equipment and materials to travel long distances on campus with no exposure to Chicago's climate.
The Stanley Manne Children's Research Institute at the Ann & Robert H. Lurie Children's Hospital of Chicago purchased and occupies four floors of the new building, allowing investigators in pediatrics to share the same research space as Northwestern scientists across disciplines.
The university already brings in more than $700 million in total sponsored research funding annually; the new building will enable Northwestern to increase that figure by $150 million annually, totaling $1.5 billion in the next 10 years with the additional space and investigators.