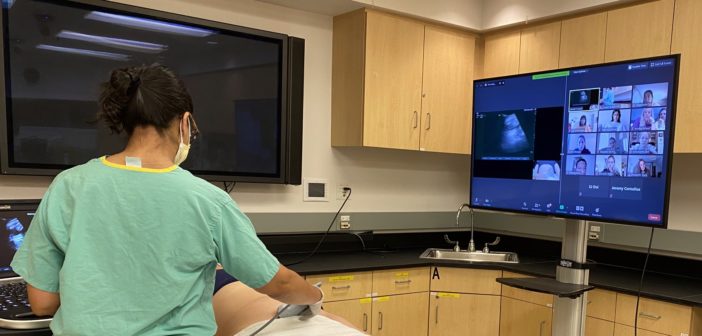 On Saturday, March 21, Gov. J.B. Pritzker declared a stay-at-home order for the state of Illinois as an effort to help mitigate the spread of the COVID-19 pandemic. Within just days of this order taking effect, Feinberg took immediate action by transforming nearly all of its curriculum to be delivered online.
"We have not missed a day of education during this enormous upheaval and that's a testament to our education leaders, to every single faculty member and to our amazing curriculum and clerkship coordinators. From one day to the next, they have kept our education program running without missing a beat," said Patricia Garcia, MD, MPH, associate dean for curriculum and an associate professor of Obstetrics and Gynecology in the Division of Maternal-Fetal Medicine.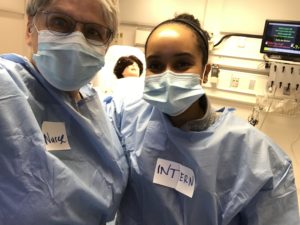 The format for much of Feinberg's curriculum has shifted and is now heavily reliant on technological platforms such as the videoconferencing software Zoom, according to Garcia. Increasingly, students are expected to self-study, engage with course materials on their own and join faculty in virtual classrooms to discuss, debate and apply knowledge to clinical problems. Students' ongoing daily engagement with faculty has been key to making this transition a success, according to Garcia.
Feinberg's quick transition to virtual learning was possible because digital learning is already embedded into the school's curriculum, according to Garcia, as students already knew how to use asynchronous videoconferencing, virtual "clickers" (audience response systems which allow students to submit answers to questions posted in real-time by instructors) and other technological platforms from the first days of their medical school careers.
As for helping Feinberg faculty acclimate to remote teaching, Garcia acknowledged the coordinated efforts of the medical school's information technology staff, leaders of the Feinberg Academy of Medical Educators (FAME), clerkship and curriculum coordinators and many others, all of whom are continuing to collaborate and share best practices for remote, online learning during this unprecedented time.
"Nothing will ever be the same for patient care or medical education, so the question now is how do we leverage the really wonderful things that we've been able to glean from this experience and go forward as better and more efficient educators," Garcia said.
Moving the Classroom Online
Feinberg's transition to online learning has been widespread across departments, with efforts including online modules for first-year students, virtual clerkships and electives for third-year and fourth-year students, and 23 Problem Based Learning small groups continuing remotely with faculty joining students to work through patient cases, share digital content and co-create digital concept-maps.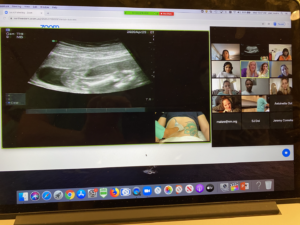 Students have also continued to engage in telehealth visits with patients through the recently adapted Education Centered Medical Home (ECMH) program, overseen by Jennifer Bierman, MD, associate professor of Medicine in the Division of General Medicine and Geriatrics and of Medical Education, and Daniel Evans, '00 MD, '03 '04 GME, assistant professor of Medicine in the Division of General Medicine and Geriatrics. In addition, students have volunteered to work remotely with Northwestern Memorial Hospital inpatient teams to help compile discharge summaries for patients, an effort organized by Michael Angarone, DO, assistant professor of Medicine in the Division of Infectious Diseases and of Medical Education, and third-year medical students Logan Hansen and Ruchi Patel.
Bootcamps for clinical skills training for graduating fourth-year students have also been transformed into an online format. The obstetrics and gynecology bootcamp, for example, is now virtual — students were mailed suture knot tying kits (to practice suturing and knot-tying under the virtual supervision of faculty and residents), small aspirators and a papaya (to learn how to do endometrial biopsies), and water balloons and amnihooks (to practice artificial rupture of membranes).
"Necessity is the mother of invention and we're able to have these bootcamps and graduate our M4s so that they can hit the ground running as interns," Garcia said.
One of the challenges, however, of creating virtual medical curriculum was transforming sessions or courses already in the curriculum that have active learning associated with it and preserving that active engagement in a virtual environment, according to David Salzman, '05 MD, MEd, '09 GME, associate professor of Emergency Medicine and of Medical Education.
Salzman is responsible for overseeing Feinberg's simulation-based education and Synthesis and Application Modules (SAM) weeks, in which students of all years are presented with clinical scenarios and must formulate patient plans based on course material.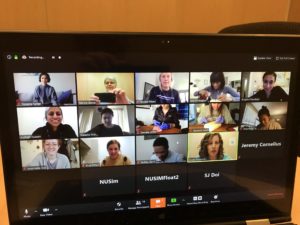 Recently, Salzman led phase two of a virtual SAM course for first-year students by using breakout rooms in Zoom to facilitate discussions for small groups. Online handouts detailing case scenarios replaced in-person patients or mannequins and a shared Google document helped students to discuss and create a patient plan.
A similar format was repeated in the capstone (transition to residency) course for fourth-year students, which was converted from a two-week in-person course to a one-week virtual course but maintains the content previously included in the in-person version by leveraging small group breakout and interactive sessions. However, achieving hands-on education, such as ultrasound education, will be more of a challenge, according to Salzman.
"Even though our approach to delivery of content has changed, our guiding principle through all of this has been maintaining the core educational objectives and adapting in a way that Zoom allows content to be delivered. At the end of the day, our mission is to facilitate learning for the medical students and to ensure they are prepared for the next stage of their training," Salzman said.
Virtual Clinical Examinations
Other recent online learning efforts executed by Feinberg include virtual Objective Structured Clinical Examinations, or OSCEs, for third-year students.
"This took an enormous amount of work from everyone involved. It went as smoothly as it could have considering it was logistically incredibly complex and we had never done it before," said Toshiko Uchida, MD, medical director of the Clinical Education Center and associate professor of Medicine in the Division of General Internal Medicine and Geriatrics and of Medical Education.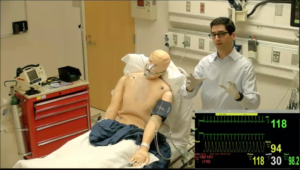 For a typical OSCE, students are tested at the end of each clinical rotation through encounters with standardized patients (professional actors trained in medical cases) and are assessed on their clinical skills.
For the virtual exam, standardized patients newly trained to the virtual exam requirements were interviewed by students through breakout rooms in Zoom.
Coordinators from the Augusta Webster, MD, Office of Medical Education (AWOME) volunteered to facilitate the exam and were given detailed instructions to ensure standardization within each of their breakout encounters, according to Ana Sferruzza, director of standardized patient programs at the Clinical Education Center.
Additionally, to reflect the current reality of the COVD-19 pandemic, students were instructed to tell their standardized patient that they were conducting a telehealth visit due to the current situation.
New Course Offerings
New virtual courses were also created in response to the medical school's transition to online learning, including a virtual COVID-19 elective created and led by Robert Tanz, MD, '79 GME, professor of Pediatrics in the Division of Academic General Pediatrics and Primary Care, a virtual surgery elective led by Nitin Katariya, MD, assistant professor of Surgery in the Division of Organ Transplantation, and a virtual pathology elective created and led by Luis Blanco, Jr., MD, assistant professor and clerkship director of Pathology, and Kristy Wolniak, MD, PhD, '09 '14 GME, assistant professor of Pathology and Medical Education and Phase I curriculum director at Feinberg.
"Even in the time of crisis, people — the faculty, fellows, residents and students — can surprise you with their creativity, enthusiasm and genuine interest in both teaching and learning," Blanco said. "I am extremely proud of the virtual pathology elective and I believe that we are able to really highlight the role of pathology in medicine and give our students an appreciation of our specialty and how it will affect their future practice, whether or not they pursue pathology."
Along with Blanco and Wolniak, the two-week course, which took place in the first week of April, was organized by Feinberg residents Lucy Fu, MD, Michael Swete, DO, fourth-year medical student Clarence Chan, and senior residency and fellowship program coordinator Raven Rodriguez.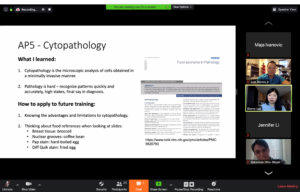 "Typically, we have one or two students doing an in-person pathology rotation at a time, but as the number of available clinical rotations were reduced due to COVID-19, we had significantly more students interested in participating in the pathology elective," Wolniak said. "While we are very excited to have the opportunity to work with so many more students, it was a big challenge to create content that would be very relevant for students entering all different fields of medicine. I think the rotation will continue to improve and there are many creative components of this experience we will be able to apply throughout the entire medical school pathology curriculum."
Students enrolled in the elective were split into two groups — one beginning with anatomic pathology for one week and the other on clinical pathology for one week. Online content for the course, including PowerPoint presentations and lectures with audio recordings, video demonstrations and validated case material were made available online.
Faculty members, fellows and residents also led and moderated live virtual check-ins and lectures at the end of each class to discuss covered specific pathology topics and show virtual reviews of microscopic slides, multidisciplinary tumor boards, and live streams of intraoperative frozen section consultations.
"Overall, this elective was well-planned and demonstrated how effective learning with modern technological capabilities can be done correctly," said Sherry Lee, a third-year medical student who was enrolled in the elective. "While us students were not physically in the pathology lab, I felt like I got a sense of what it is like to work there."
"I enjoyed being able to go over lectures at my own pace — pause and rewind to understand a concept if necessary — and to answer questions to reinforce my understanding of a concept. When in-person experiences are necessary to learn and visualize something, the elective supplemented with live and video demonstrations, which I thought was highly effective to overcome the challenges of virtual learning," Lee added.
Focusing on the Community
Feinberg's rapid transition to online learning has demonstrated that different technologies can be used to enhance communication, knowledge transfer and connectedness in both educational and clinical settings, according to Garcia and Marianne Green, MD, senior associate dean for medical education and the Raymond H. Curry, MD, Professor of Medical Education. The transition, and the COVID-19 pandemic itself, has also reaffirmed the importance of education in health disparities and healthy equity.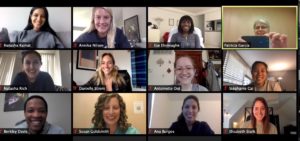 "If we can't capture this moment to impress upon our students the importance of that aspect of learning about health, then we've lost a tremendous opportunity," said Green.
Additionally, the rapid understanding of the virus, both physiologically and epidemiologically, has enabled students to witness rapid-cycle medical decision making like never before and better understand the importance of evidence-based practice, according to Garcia and Green.
"This will most likely not be the last time students in this generation will be dealing with a pandemic, and I think our students need to be prepared to be leaders to address it when it happens," Green said.
Feinberg's Coronavirus/COVID-19 webpage is receiving regular updates and additions.