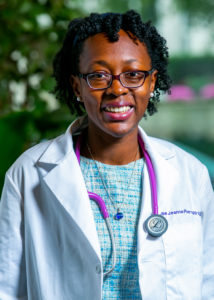 Marlise Pierre-Wright, a current second-year medical student, is several years older than most of her classmates, having spent six years working in health policy. Now pursuing her medical degree at Feinberg, Pierre-Wright says she regards herself as a "nontraditional" medical student and fully embraces everything that goes along with that label.
Before coming to attending Feinberg, Pierre-Wright completed a five-year federal service graduate program at Princeton University, which allowed her to earn a master's degree in public policy with a concentration in health and health policy and also work for a government health agency. From this experience, she realized that for her to best advocate for patients at a federal level, she needed to better understand what was happening on the ground and in the clinic.
Read a Q&A with Pierre-Wright below to learn more about her experience working in health policy, her decision to attend Feinberg and her nontraditional medical school journey.
Why did you choose Feinberg?
I felt like Feinberg really understood my story and I think the school has a strong stance about health policy and how health impacts society. During my interview, I remember I was asked a lot of questions about the Affordable Care Act and whether I thought gun violence was an epidemic. I feel that Feinberg is very aware of the social determinants of health and is forward thinking about these issues and about how to integrate that into our curriculum.
I'm also appreciative of the work that goes into our curriculum, I think partly because I've worked in health policy and understand just how much work it takes to make something happen with so many moving parts. I am constantly aware of the amount of effort that the school has to put into structuring our curriculum in a way where we can have small groups and interactive learning environments.
What do you want to specialize in?
I'm thinking about pediatrics because when I worked for the U.S. Administration for Children and Families, I rotated through the Head Start and Child Welfare divisions and enjoyed their mission to improve the lives of the next generation. I'm also currently a student researcher for their child abuse team at Lurie Children's Hospital. Medical school has been a very eye-opening experience; the things you think you will like you may end up not actually liking, and the things you're unsure about you may find that you actually enjoy them. I like that medical school pushes you in ways you've never been pushed before; you can't really stay in your comfort zone in medical school.
What you were doing before medical school?
I majored in English literature at Princeton University for undergrad and was always really interested in the topics of trauma and drama. I was also involved in health policy and mental health clubs and I did my senior thesis in New Orleans where I worked with people with mental health issues who were affected by hurricane Katrina. I taught poetry and close read their poems.
But it was during my junior year at Princeton when I had the opportunity to apply for a federal service program called the Scholars in the Nation Service Initiative, which is a five-year program post-graduation where you can get your master's in Public Policy and also work for the federal government for two years. It was an amazing, life-changing program.
During this program, I was able to work for the U.S. Administration for Children and Families and my first stint with them was an internship with their Family Violence Prevention Services Program. For a two-year long fellowship, I worked in their Boston regional office in the Office of the Regional Administrator. Our office worked on human trafficking issues and we would meet with hospitals and nonprofits to talk about the government's ongoing efforts to address this issue. Also, the Affordable Care Act was rolling out at that time under the Obama administration. In some states, the federal government was tasked with letting people know about the healthcare marketplace, so were charged with thinking about how we could help the community know more about the legislation in terms of domestic violence and other issues relevant to our stakeholders.
How did you make the shift from working in health policy to wanting to practice medicine?
Never in a million years did I think I was going to become a doctor. But when I was working in health policy, I realized that sometimes you may not understand what's happening on the ground and that you have to be dependent on other people to tell you what's happening with patients. I felt like it was really important for me to understand how policy was impacting people directly. I wanted a career where I could work with people, but I could also be involved with health policy and research. I felt like medical school was the one option that gave me the most ability to accomplish whatever I wanted in terms of being in direct contact with patients and implementing change in health policy.
On top of going to medical school, you're also expecting your first child — congratulations! How has Feinberg worked with you to ensure your academic and personal needs are met?
One major hesitation I had was that if I went to medical school at a time in my life when I wanted to start a family, how could I do that? I started medical school in my late twenties and have been married for five years. When I started school, I met with the education deans and was honest with them about wanting to have kids. They said if that was something I wanted to do then they would support me, I just had to let them know what my timeline would be, like if I wanted to finish school in four years or take some time off. There really is flexibility built into our curriculum that students can leverage for family planning. It was nice to be able to walk into the dean's office and discuss with them about what made the most sense in terms of rotations, boards, pumping, doctor's appointments and other considerations.
I also feel like if I have any concerns, I can just come to the vice-dean's office and ask. My husband and I reached out to Vice Dean Wayne with questions about the daycare options available to medical students. She put me in touch with Northwestern's Office of Work/Life & Family Resources, which gave me tons of resources about childcare and financial aid for it. Overall, it's been a pretty smooth and reassuring process.
What are your plans for the future?
At some point, I definitely want to go back into health policy and bring what I've learned in medical school to the federal government. For example, while I was working at one of our Education-Centered Medical Home (ECMH) clinics here at Feinberg, one of our patients came in and they have several chronic health conditions that have to be managed by medications. But her insurance had recently changed its policies regarding medication coverage, so she came to us and said she had only two more days left of medications. It was eye-opening to see firsthand why I went to medical school, because here there was this was policy that was put into place and directly impacting my patient on a very personal level. I just felt so angry for my patient and it made me want to be an advocate for them at a national level.