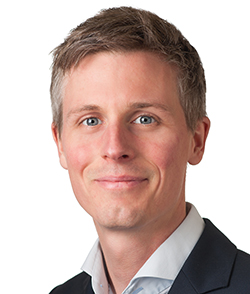 A recent Northwestern Medicine study has shown that disrupting the brain's orbitofrontal cortex (OFC) with noninvasive stimulation impairs a person's ability to make inference-based decisions.
The findings, published in Current Biology, may also facilitate the development of potential treatments for psychiatric disorders in which inference-based decision-making, such as choosing to try a new restaurant or apply to college, is weakened and dysfunction of the OFC is prevalent.
"Our results show very clearly that when you disrupt the OFC, people are not impaired in making decisions when they have had a direct experience, but they're impaired in making decisions where they have to infer the outcome," senior author Thorsten Kahnt, PhD, assistant professor of Behavioral Neurology in The Ken & Ruth Davee Department of Neurology and of Psychiatry and Behavioral Sciences.
For the study, scientists wanted to determine whether the OFC — an area of the brain which sits right above the eyes — is essential for making decisions based on an inferred outcome by testing whether disrupting its activity would impair the ability to make such decisions. The OFC, however, is located in a part of the brain that is difficult to access with traditional noninvasive stimulation techniques, according to Kahnt.
In response, the scientists utilized a transcranial magnetic stimulation protocol, called continuous theta-burst stimulation (cTBS) to temporarily disrupt activity in the wider OFC network. The scientists used the technique to simulate an area in the lateral prefrontal cortex region of the brain that is strongly connected to the OFC, prior to devaluation of food odors.
In the experiment, participants could choose between smelling different odors that were related to different types of food. They found that after they fed people food that corresponded to a particular odor, they were less likely to choose to smell that odor. But when we they noninvasively stimulated the OFC, participants were just as likely to choose the odor corresponding to the food they had just eaten.
The ultimate goal, according to Kahnt, is to better understand the role of the OFC in health and disease, and to help develop treatments for neuropsychiatric disorders.
"With this study we basically validated our method, so we know now that we can use the technique to disrupt activity in the OFC noninvasively, which is important for asking other questions in the future," Kahnt said. "It's also important because the OFC is impacted in several psychiatric disorders, and having a way to manipulate its activity will help us to develop new treatments for certain disorders like obsessive compulsive disorder or addiction and perhaps even depression."
The scientists are currently determining whether decision-making behaviors rely on OFC signals in relation to other parts of the brain, as demonstrated in a corresponding study led by Kahnt that was recently published by PLoS Biology.
For treating addiction with the noninvasive technique specifically, the challenge will be to enhance and not disrupt the function of the OFC, according to Kahnt.
"There is evidence to believe that OFC function is impaired in addiction. It cannot do the things that it's supposed to do, potentially because of drug use. What we need to do now is to develop stimulation protocols that allow us to do enhance its function," Kahnt said.
This work was supported by National Institute on Deafness and other Communication Disorders grant R01DC015426 and the Intramural Research Program at the National Institute on Drug Abuse.