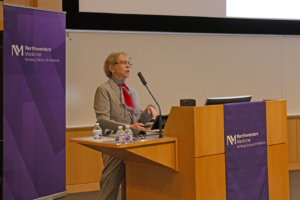 Members of the Northwestern University Feinberg School of Medicine community gathered last week to kick off the self-study portion of the Liaison Committee on Medical Education (LCME) accreditation process, an 18-month-long preparatory process for the LCME accreditation site visit.
LCME is the nationally recognized accrediting authority for U.S. and Canadian medical education programs, and is sponsored by the Association of American Medical Colleges and the American Medical Association (AMA).
As the featured guest of the kick-off event, Barbara Barzansky, PhD, MHPE, LCME co-secretary and director of undergraduate medical education of the AMA, presented to a full house of faculty, residents, students and staff. Barzansky provided an overview of the self-study process and answered several questions from attendees regarding the steps prior to and during a full LCME accreditation survey.
The self-study portion of the process will culminate with an official site visit from the LCME on April 18-21, 2021 and is being led by a Self-Study Task Force comprised of a broad range of faculty, students and administrative staff representing academic and clinical departments at the medical school.
Diane B. Wayne, MD, Vice Dean for Education and the Dr. John Sherman Appleman Professor of Medical Education, and Marianne Green, MD, Senior Associate Dean for Education, are co-leading the efforts of the task force.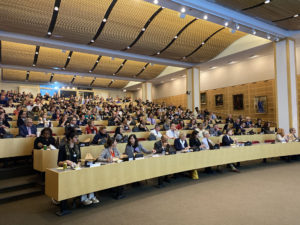 "Maintaining Feinberg's accreditation is an ongoing process that promotes quality assurance and continuous improvement for all aspects of the curriculum." said Wayne. "We are fortunate to have such a wonderful group of faculty, staff and students who work tirelessly on our education program."
The accreditation process includes completion of the LCME's data collection instrument (DCI), a self-assessment of Feinberg's performance across the LCME's 12 overarching standards and 93 elements, followed by the April 2021 site visit. Full accreditation is an eight-year term.
Five subcommittees with representation from across the school have also been formed to analyze Feinberg's performance on the LCME standards and elements. Members include more than 85 faculty, administrative staff, students and residents.
Feinberg medical students will be leading the Independent Student Analysis (ISA), an essential component of the reaccreditation process, which independently surveys student satisfaction with the educational program, student services, the learning environment, and other areas of relevant to students.
This work builds upon that of the LCME Quality Improvement Committee, a standing committee of the school, chaired by Deborah Clements, MD, Chair of Family and Community Medicine, which has been focused on Feinberg's continuous quality improvement activities since 2014.
A decision on reaccreditation is expected in October 2021. More information about the accreditation process can be found on the LCME section of the Feinberg website.