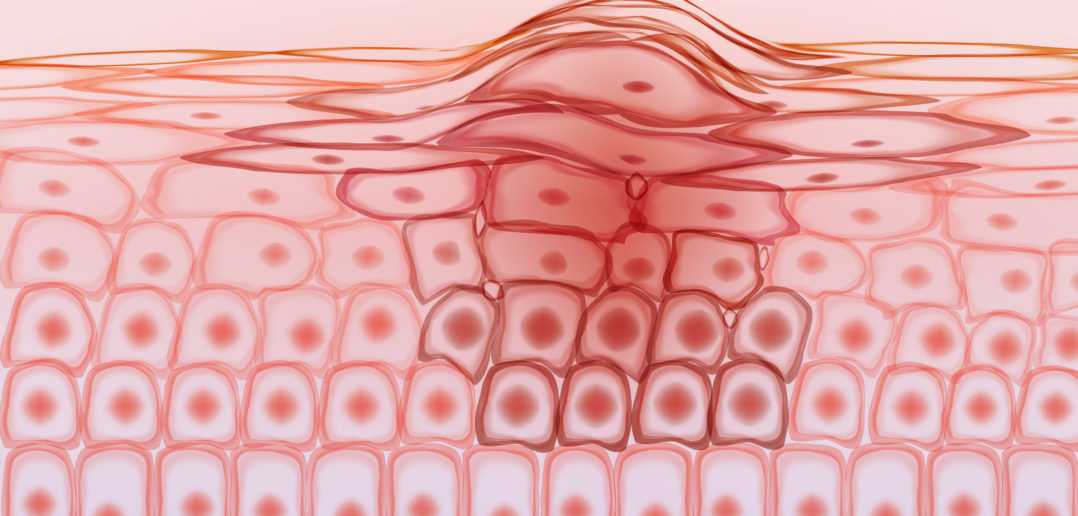 This article was originally published in the Breakthroughs Newsletter. Find more stories like this, as well as the Breakthroughs Podcast, on the Breakthroughs homepage 
Our skin is often thought of as the ultimate barrier that protects us, but what happens when that barrier is compromised through disease, like eczema? What are the mechanisms behind these diseases, and how can the latest technologies be exploited for discovery and treatment?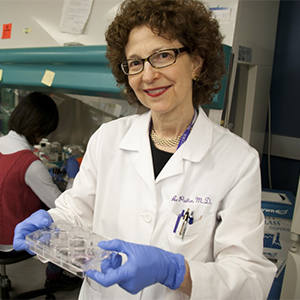 These are the kinds of questions that the Skin Biology and Diseases Resource-Based Center (SBDRC) helps answer. One of only six such centers in the United States funded by the National Institutes of Health's National Institute of Arthritis and Musculoskeletal and Skin Diseases, the center promotes bench and clinical skin and epithelial biology research efforts across multiple disciplines at Northwestern and throughout the Chicago clinical research community.
Through its three research cores, the center "enables people to share their skills, develop expertise, and facilitate research," says director Amy Paller, MD, the Walter J. Hamlin Professor and chair of Dermatology, who oversees the center with associate director Robert Lavker, PhD, the Jack W. Graffin, MD, Research Professor and a professor of Dermatology. Started in 2009, the center now supports more than 70 faculty members in 14 departments at Northwestern, in addition to faculty at the affiliated Chicago Biomedical Consortium.
A wide range of tissues and 3D cultures
The center's Skin Tissue Engineering and Morphology (STEM) core offers cultures of normal human and mouse epidermal keratinocytes (the cells that make up the majority of the epidermis). Often this tissue comes from donated foreskin and skin from breast reductions and abdominoplasties, as well as tissue of diseased skin collected from patients. The core maintains a diverse base of skin cell cultures and tissues — from different ages, genders and races — in order to best understand the biology of all human skin. The core can also generate a 3D culture of the cells that looks just like the epidermis. Because patient cells or engineered skin cells can be used, models of human disease can be tested.
Kathleen Green, MD, the Joseph L. Mayberry, Sr., Professor of Pathology and Toxicology and professor of Pathology and of Dermatology (who directs the core along with Bethany Perez White, PhD, associate core director and assistant professor of Dermatology) often uses the core's services in her research. For example, her group is looking at how keratinocytes communicate with melanocytes, skin cells that produce melanin. "We want to know how this communication goes awry and how melanocytes transform into pre-melanoma cells," Green said. The core provides her with 3D cultures of melanocytes and keratinocytes in the same ratio that you would find in normal human skin. "The core facility really helps us accelerate our research," she said.
Cores offer in vivo testing, gene editing technology
The Translational and Experimental Skin Testing and Immune Tracing (TEST IT) core focuses on the relationship between keratinocytes and the skin immune system and provides instrumentation and immunological assay services. The core also has a unique clinical unit, where clinicians can test how exposure to environmental agents, like UV rays, affects skin immunologically and perform early testing of topical agents. Located near the dermatology clinics, the core also maintains a roster of healthy volunteers and individuals with skin disease who are willing to participate in IRB-approved experiments.
The Gene Editing, Transduction and Nanotechnology (GET iN) core allows investigators to use gene editing technology for skin research, including CRISPR-Cas9 technology and both viral and non-viral methods for the delivery of DNA, RNA and other biomolecules into skin. The core also has technology to deliver genes and proteins into single cells.
The skin is highly accessible, leading to an unparalleled opportunity for discovery. "We are encouraging clinicians who aren't investigators to partner with scientists to use the cores," Paller says. A clinician who has several patients with a particular skin disease that is poorly understood could partner with a scientist, and that clinician-scientist team can submit a clinical trial proposal, collect samples, work with the TEST IT core process material from the tissue, use the SBDRC or another institutional core to obtain data from that small piece of skin, and then work with the university's bioinformatics experts to understand the data. "It's a fantastic opportunity for translational research and engaging our clinicians with scientists," Paller said. "That discovery then comes back to the bedside."
The center even gives out four $25,000 grants each year to support pilot and feasibility studies across the university, most of which are awarded to scientists who are not already focused on skin disease research. During the past decade, these grants have been awarded for studies that have ranged from discovering biomarkers for activation of cutaneous itch neurons to examining skin cell mitochondria as a systemic oxygen sensor to topical delivery of nanoconstructs for gene regulation in skin — and have resulted in new federal grants and high-impact papers.
Several investigators who use the GET iN core are taking advantage of the generation of viruses for transduction or CRISPR/Cas9 technology at the SBDRC without having skin biology research as their main goal.
"We are open to brainstorming with people as to how we can collaborate using the cost-effective resources available at our center," Paller said. "One of our great successes has been leveraging the expertise at Northwestern toward skin biology and our field, but also providing new areas of interest and expansion for some of these great scientists who already conduct research involving skin or epithelial cells."