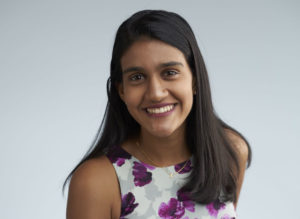 Second-year medical student Kamya Bijawat hasn't decided whether to specialize in pediatrics or adult oncology, but her passion for global health is certain: When Bijawat was three years old, her mother was diagnosed with breast cancer. It went into remission, but came back ten years later, and while her mother received continuous treatment both in the US and UK, she passed away when Bijawat was 15.
Seeing the difference in care of her mother in the US and in London, Bijawat began to wonder why patients who receive care in two geographically different healthcare settings can have vastly different outcomes.
So, for her Area of Scholarly Concentration research project, Bijawat spent a month this summer in South Africa at Red Cross War Memorial Children's Hospital in Cape Town studying how wireless infant monitoring sensors developed by John Rogers, PhD, the Louis Simpson and Kimberly Querrey Professor of Materials Science and Engineering, Biomedical Engineering and Neurological Surgery, could improve parent-infant bonding and potentially decrease rates of infant mortality in low-resource settings.
Bijawat said the project, overseen by Debra Weese-Mayer, MD, the Beatrice Cummings Mayer Professor of Pediatric Autonomic Medicine and supported by the Bill and Melinda Gates Foundation and the Institute for Global Health, was a transformative experience, and that she hopes to continue to participate in more global health experiences during her medical school career.
Read about Bijawat's research, her passion for global health and her hopes for the future of the field in the Q&A below.
Why did you choose Feinberg?
I went to Northwestern for undergrad and the university has a program where you can apply to Feinberg during your third year of undergrad called the Northwestern Undergraduate Premedical Scholars Program (NUPSP). By doing this, I didn't have to take the MCAT, but I did have to submit an application and interview as normal. What helped me choose Feinberg was the module system-based curriculum and the fact that clinical experience is integrated so early on, like through the Education-Centered Medical Home (ECMH) program. I also love having opportunities to work in different volunteer clinics in different neighborhoods with different populations, since it's a great opportunity to get well-rounded exposure to different patient populations. Aside from that, I love the city of Chicago. It's a wonderful place to be as a young person and being right on the Lake Michigan, you can't beat it.
How did you get involved with this research?  
I took a gap year between finishing undergrad and starting medical school and ended up working as a research assistant in the Center for Autonomic Medicine at Lurie. During the beginning of my M1 year when we had to pick our Area of Scholarly Concentration project, I knew I wanted to do something with global health. I also knew it might be one of my few opportunities in the next couple of years to go abroad and do work like this.
I spoke with my lab and knew of a project that had recently been funded by the Bill and Melinda Gates Foundation. The project was in its early stages and was an integration between the Center for Autonomic Medicine, Dermatology and Biomedical Engineering, along with other departments and centers at Northwestern. Biomedical engineers here at Northwestern had developed these skin sensors for premature babies in the NICU and I thought the technology was fascinating and revolutionary. I was curious to figure out how these sensors could impact patient care and improve infant-parent bonding in diverse settings throughout the world.
What were your findings? Next steps?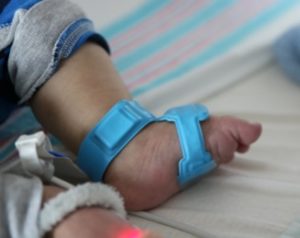 We found that the parents at Red Cross War Memorial Hospital in South Africa actually felt less comfortable touching their children in the hospital than parents at Lurie, even before talking about the wireless sensors. While talking with the parents at Red Cross, I used a doll to demonstrate what the sensors would look like and explained how they worked. When they were asked about whether they thought the wireless monitoring would help and whether they would be supportive of this kind of intervention, parents at both Red Cross and Lurie said they almost unanimously would support the use of wireless vital sign monitoring and that it would help improve the physical health of their baby and the emotional bonding between parent and child. Surprisingly, both findings were statistically significant when we did the data analysis despite only having spoken with 10 parents at Red Cross and 30 at Lurie.
As for next steps, we want to try the sensors on the babies, see how they tolerate them, and validate them in South Africa. The sensors are currently being validated against standard monitoring here at Lurie. We also want to identify how best to implement these devices in South Africa based on their hospital settings, especially because we were at a fairly resourced hospital there and knew that was not the norm.
As a future healthcare provider, what did you personally take away from this experience?
My time in South Africa was incredible and very eye-opening, offering me a lot of perspective. I try to be very open-minded and engaged in what's going on in the healthcare world, but I realized how little I actually knew. For example, many cases of meningitis are seen at the hospital I was at and one of the residents asked me on my first day what the different types of meningitis were. I told her it's either viral or bacterial and she said, "You're missing a third category: tuberculosis meningitis." That's something we've learned about here at Feinberg, but it's super rare in the US. And those three types of meningitis are all equally tested in South Africa because it's so prevalent. I learned how much the health of a population impacts the way that you approach healthcare and diagnosis as a provider. The resilience of the families there also really stuck with me.
Where do you see the field of global health going?
I hope that more people will have exposure to global health opportunities, but I also think we have to be really careful about how we approach those opportunities in terms of not overstepping boundaries and trying to figure out ways to integrate our knowledge into already existing healthcare systems. Unless you have exposure to global health, it's hard to understand what else is going on in the world and what healthcare challenges others really face.
We also need to continue to be mindful as we approach global health opportunities to remember that we are there as a guest. It's not about us trying to save a group of people. It's not about us trying to teach others the "correct" way to do things. We want to make sure to be respectful of others, their cultures and the institutions and places that support them. We must continue to improve how we integrate our knowledge into healthcare systems abroad and ask how we can help as opposed to telling others what to do. I think it's getting better, but we still have work to do.