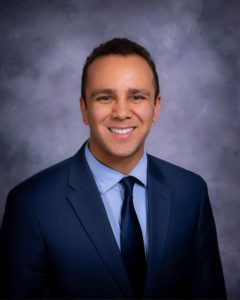 Costner McKenzie, a fourth-year medical student, wants to know why people aren't using sunscreen, and he's not satisfied with simple excuses like "I forgot." Instead, as part of his Area of Scholarly Concentration research project, McKenzie delved into how gender and social norms impact the use of sun protection, in the hopes of designing interventions to increase use among groups who lag behind.
Originally from the Seattle area, McKenzie's interest in dermatology was sparked during his undergraduate education at Stanford, and he's turned that interest into studies and peer-reviewed publications.
In addition to sun protective behaviors, McKenzie has also analyzed the impact of atopic dermatitis — an inflammatory skin disease — on children's sleep and overall health, another example of his interest in dermatology that goes beyond the skin.
Read a Q&A with McKenzie below.
Why did you choose Feinberg?
I primarily chose Feinberg for its incredible community of students, faculty and staff. My tour guides seemed genuinely happy, and emphasized the commitment and approachability of AWOME (the Augusta Webster, MD, Office of Medical Education). I also felt that Feinberg fostered an exceptionally positive and collaborative culture. I was drawn to the curriculum's emphasis on team-based learning and the student body's society structure, which provides a familiar social and academic network throughout medical school. I was confident these aspects of Feinberg would support my personal well-being and prepare me to practice team-based medicine.
I also valued Feinberg's strong commitment to diversity. After my interview day, the Office of Diversity and Inclusion invited me to meet current students over coffee. I was able to learn about the experiences of underrepresented minorities at Feinberg and living in Chicago. This opportunity ensured me that I would find an inclusive, supportive community of friends throughout my medical education.
What are your medical or research interests?
I have a strong interest in dermatologic health disparities, particularly those related to racial, ethnic and sexual minorities. For my Area of Scholarly Concentration project, I worked with Dr. Roopal Kundu to examine the relationship between traditionally masculine social norms and sun-related behaviors.
We found that men strictly adhering to masculine norms are less likely to use sunscreen regularly or understand the skin damage associated with tanning. Our study addressed the impact of traditional gender roles and was published in the Journal of the American Academy of Dermatology.
Do you participate in any organizations or societies at Feinberg?
Currently, I'm the fourth-year chair of the Lawless Society, which includes a subset of the student body, dedicated faculty mentors and alumni. Throughout medical school, I've helped coordinate school-wide events like Alumni Physicians of Feinberg, Society Olympics and mentoring sessions to assist in career exploration.
I was also a camp director for Camp Wildcat, which is a weekend retreat to Camp Tuckabatchee in northern Illinois for thirty middle school students from Chicago. During the retreat, our team of medical student volunteers led activities like capture the flag and tie-dye. Providing the children with this unique experience has proven to be one of my many rewarding experiences at Feinberg.
What advice would you give to prospective medical students?
I would advise prospective medical students to seek mentorship throughout their medical education and future careers. I've been fortunate enough to have exceptionally committed mentors that have not only taught me the fundamentals of medicine, but have also provided valuable career advising and research opportunities.