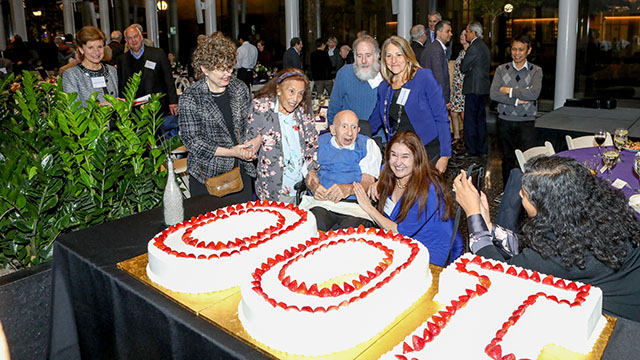 Jeremiah Stamler, MD, who celebrated his 100th birthday Oct. 27, says he is considering retirement but isn't quite ready. There is still so much to do.
Though he is technically professor emeritus, Stamler continues to do pioneering National Institutes of Health-funded research, advises colleagues and reviews his peers' writing.
"He continues to do brilliant science," said Donald Lloyd-Jones, MD, ScM, chair of Preventive Medicine and senior associate dean for clinical and translational science.
The founding chair of the preventive medicine department at Northwestern in 1972, Stamler has had tremendous influence on the understanding of diet and cardiovascular health. He's considered the founding father of preventive cardiology.
In honor of Stamler's birthday, scientists from across the country and world gathered at Northwestern last week for a day-long scientific symposium to speak about his work, it's impact and the future of the field. In the evening, a dinner capped the event and included a cake with sparklers.
Stamler put cardiovascular risk factors — cholesterol, blood pressure, diabetes, smoking — on the map in the 1970s. It is well accepted today that a healthy diet and lifestyle will cut a person's risk of a heart attack, but it was controversial decades ago when he and his colleagues reported this connection. He was an early adopter of the Mediterranean diet and has been on it most of his life.
Stamler studies metabolomics — the small molecules our body creates as a result of our diet and our environmental exposures interacting with our genetic makeup — and how those small molecules lead to things like high blood pressure and vascular damage.
But his influence goes beyond cardiovascular health.
Stamler was a kid from Brooklyn born in 1919, so he had many acquaintances who had attended meetings of the Communist party or were members. During the Red Scare of the 1950s, he was subpoenaed by the House Un-American Activities Committee. At the time, the choice one had was to either roll over on one's friends (and be blacklisted and shunned) or invoke the Fifth Amendment (and be blacklisted and shunned). Neither of those was acceptable to him.
His case went all the way to the Supreme Court, which ruled in his favor and ultimately collapsed the committee. He helped change the course of American history.
He also believes in the importance to heart health of matters of the romantic heart, though he said it's difficult to prove scientifically. When Stamler's first wife died in the 1998, he married his high-school sweetheart, Gloria.