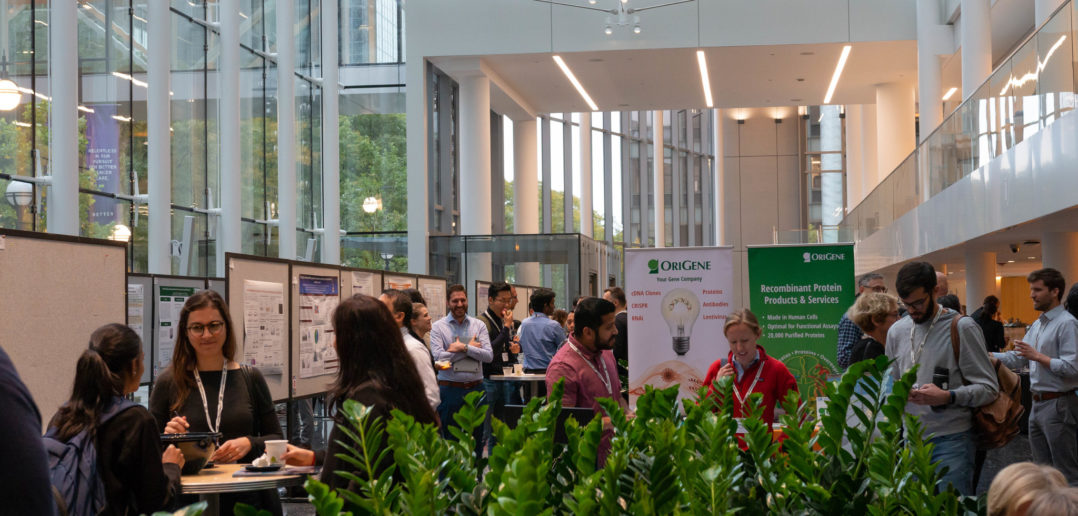 Northwestern and Cell Press recently hosted a Cell Symposium on the Chicago campus, focusing on transcriptional regulation in evolution, development and disease, highlighting the medical school's place at the forefront of recent developments in the field.
The conference featured educational sessions on gene enhancers, chromatin packaging and epigenetics; tutorials on laboratory and computational tools; and a poster session and networking social.
"Our goal is to bring in superb scientists from all over the world to present their state-of-the-art studies and discoveries to members of the community here at Northwestern Medicine," said Ali Shilatifard, PhD, chair of Biochemistry and Molecular Genetics, the Robert Francis Furchgott Professor, director of the Simpson Querrey Center for Epigenetics and a professor of Pediatrics. "Being able to bring Cell and Nature press supported meetings to FSM speaks very highly of the wonderful university and medical center that we have in the backdrop of the great city in the  U.S. that we live in."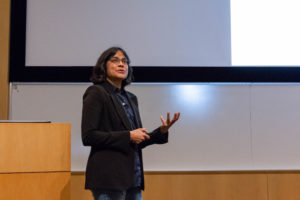 Geeta Narlikar, PhD, professor of Biochemistry and Biophysics at University of California, San Francisco School of Medicine, presented recent findings about a new role for a protein called HP1. It's active in a variety of cellular functions, but recently has been discovered to make up heterochromatin, a tightly-packed form of DNA that affects gene expression. Narlikar discovered that binding interactions between HP1 and other proteins helps organize heterochromatin, which in turn drives gene expression.
"It's fascinating to imagine how this seemingly simple complex can operate at a totally different scale of biology," Narlikar said.
Other presenters spoke about innovative methods, like Mark Halfon, PhD, professor of Biochemistry at the Jacobs School of Medicine and Biomedical Sciences at the University of Buffalo, who focused on the evolution of gene enhancer and regulatory networks and showcased a machine-learning algorithm that uses fly DNA to identify gene enhancer sequences in the DNA of other insects.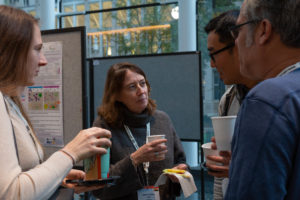 Gene enhancers are short regions of DNA that increase the likelihood that transcription of a particular gene will occur. Studying which sequences are conserved through evolution, and likely important for proper transcription, can give scientists new targets of study for investigations in human epigenetics. However, picking enhancer sequences out among the large pool of non-coding DNA is a little like finding a needle in a haystack, Halfon said.
Halfon's tool compares known enhancer sequences in fly DNA to the DNA of other insects, such as mosquitos, and identifies sequences in the mosquito DNA that follow similar patterns.
The conference also featured a scientific poster session, where students, post-doctoral scientists and early-career investigators presented posters on a variety of topics. Isbaella Salamone, a sixth-year student in the Driskill Graduate Program in Life Sciences, examined how glucocorticoids — a common steroid treatment for conditions like rheumatoid arthritis and multiple sclerosis — affect male and female muscle tissue differently.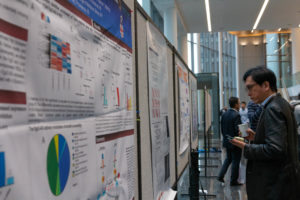 Sexual dimorphism in muscle tissue is well-documented, Salamone said, with male tissue tending to be bigger and stronger, while female muscle tends to have more endurance, so sex differences in response to medication or therapy is an important avenue of research.
Salamone's experiment treated mice with glucocorticoids, finding that the improvements in strength and cross-sectional area were about the same across sexes. However, when she performed RNA sequencing analysis, she found only about 10 percent of the transcriptional pathways that were activated were shared by both genders: 90 percent of the pathways were sex-specific, including male-specific increases in mTOR, a protein kinase that helps build muscle.
"Over a million Americans are currently taking chronic glucocorticoids, and a high number of them are women, for disorders that disproportionately affect women like rheumatoid arthritis," Salamone said. "Knowing this could influence the situations under which you would prescribed steroids, because there may be conditions where the muscle integrity is weak, and we may not want to be prescribing something that boosts mTOR."