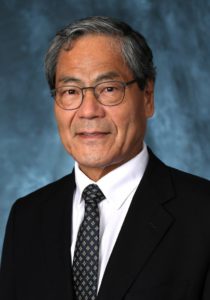 High levels of folate, a B vitamin, can force glial nerve cells to transform back into undifferentiated stem cells, according to a new study published in the journal Stem Cells.
These undifferentiated stem cells could jump-start tumorigenesis, raising questions about a link between excess folate supplements after pregnancy and pediatric brain cancer, according to the authors.
Tadanori Tomita, MD, '80 GME, Yeager Professor and vice chair for Pediatric Neurological Surgery in the Department of Neurological Surgery, was a co-author of the study and Chandra Mayanil, PhD, formerly a research associate professor in the Department of Neurological Surgery, was the lead author.
Folate deficiency was first recognized during the late 1980s as a cause of devastating neural tube defects during fetal development, prompting public health organizations to recommend pregnant women take folate supplements. By 1998, it was mandatory in the United States to fortify grain products like flour, cereal and pasta with folic acid, and within months this fortification was associated with a significant decrease in the number of infants born with neural tube defects, according to previous studies.
Previous research, however, has also identified negative health risks associated with over-supplementation of folate, and according to the authors, this study identifies how high levels of folate may set off a cellular reaction that could underlay the near-dramatic increase in rates of pediatric brain cancers since folate supplementation became widespread.
In previous Northwestern studies, investigators discovered that folate can up-regulate transcription factors responsible for pluripotency, the ability of stem cells to differentiate into specialized cells.
In the current study, they went one step further, demonstrating that excess folate can actually reverse differentiation and transform glial nerve cells back into undifferentiated stem cells. A key step in this process occurs when folate receptor alpha (FRα) moves excess folate to the nucleus and it activates those transcription factors.
They confirmed this by creating glial cells without FRα, and these cells did not de-differentiate when presented with excess folate, highlighting the importance of nuclear translocation, according to the authors.
Another crucial detail is in how these de-differentiated stem cells acted: they clumped up into small spheres, not dissimilar to some tumors. In addition, they had a high expression of FRα, a characteristic shared with many cancers, according to the study. They also found the folate mediated de-differentiation can be blocked by Ocimum sanctum hydrophilic fraction-1 (OSHP-1), which reduces both the nuclear translocation of FRα and the interaction with chromatin assembly factors and re-differentiates cells to glial cell phenotype.
These findings, along with sharp rise in pediatric glial-cell derived tumors since folic acid fortification was made mandatory, combine to paint a picture of an issue that deserves further study, according to the authors.
This work was supported in part by the State of Illinois Excellence in Academic Medicine award, a grant from the Spastic Paralysis Research Foundation of Illinois‐Eastern Iowa District of Kiwanis, the Spina Bifida Association and Stanley Manne Children's Research Institute Pilot Grant award, Eleanor Clarke Chair in Developmental Neurobiology and Neurofibromatosis fund from the Division of Pediatric Neurosurgery, Ann & Robert H. Lurie Children's Hospital of Chicago.