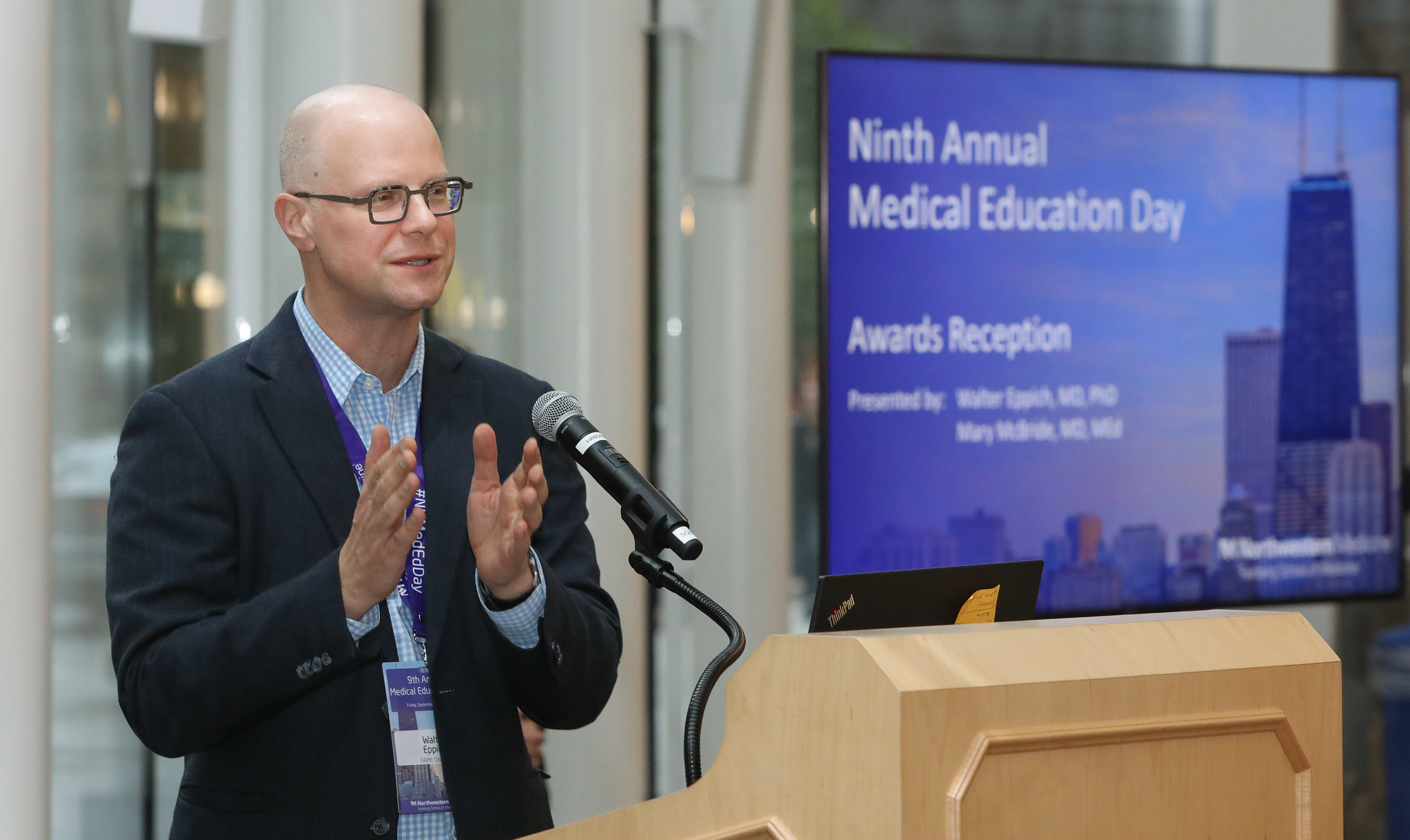 The field of medical education has continuously been challenged to develop more efficient and innovative teaching methods and curriculum.
But with the help of new, emerging technologies such as iPads, new instructional approaches that are safety and student centered are feasible, according to Martin Pusic, MD, PhD, associate professor of Emergency Medicine and Pediatrics at New York University Langone School of Medicine, during his keynote address at Feinberg's ninth annual Medical Education Day event.
During his speech, Pusic defined the concept of "learning analytics", or the interpretation of data produced and gathered on behalf of students in order to assess academic progress. For this to benefit medical students, however, he emphasized that it requires clinical information professionals and medical education faculty to work together.
"You and I as educators need to use our imaginations because we can do so much more than what we could do before. And, in fact, there's an imperative to use your imagination because this is a contentious space," Pusic said.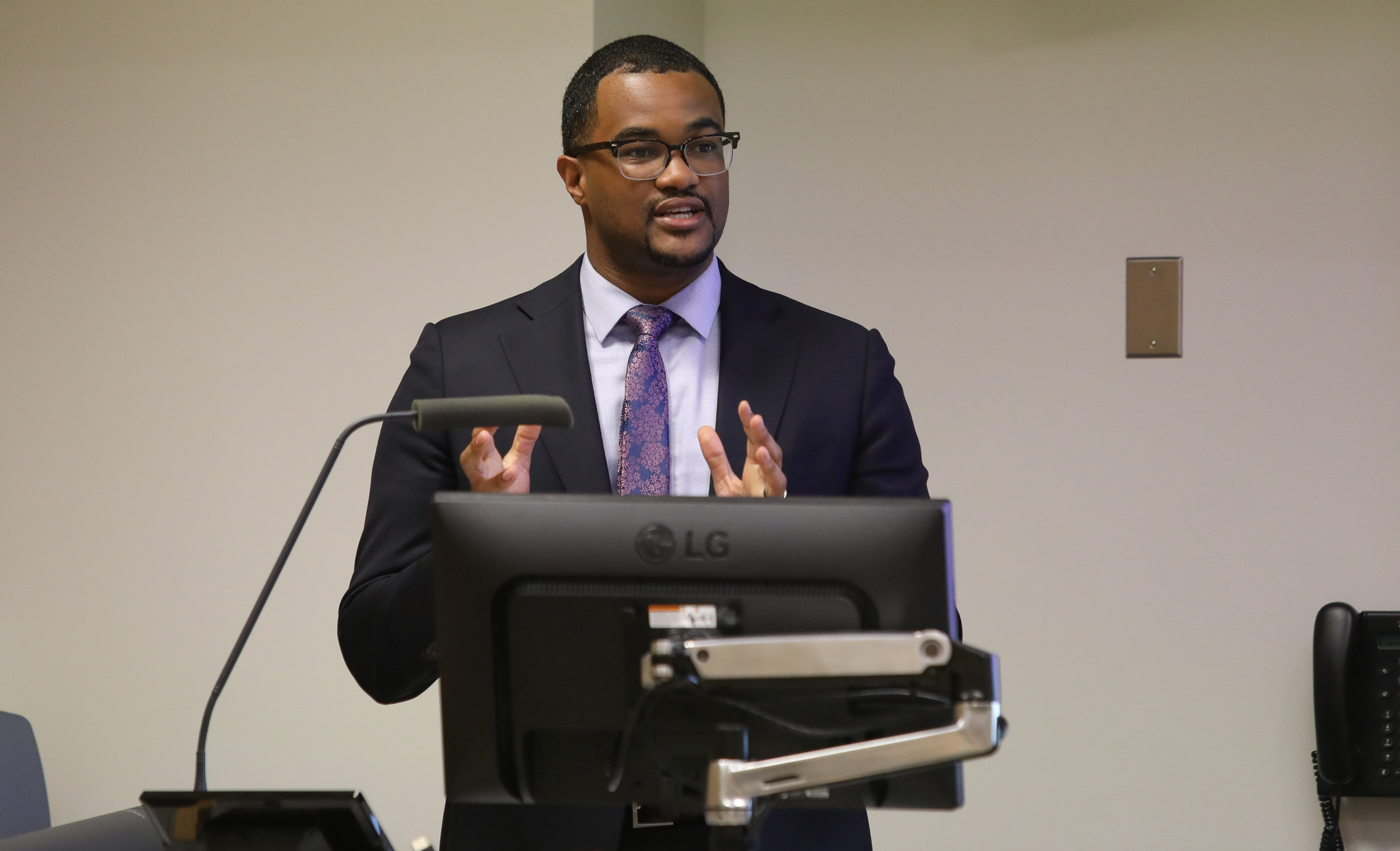 Feinberg's Medical Education Day, held this year on Friday, Sept. 27 at the Robert H. Lurie Medical Research Center, is an annual event dedicated to examining and advancing the future of medical education and celebrating outstanding educators at Feinberg. The day-long event is presented by the Feinberg Academy of Medical Educators (FAME) in collaboration with the Department of Medical Education.
"Medical Education Day is so important because it makes it very clear to clinical educators that we value their contributions and that there is a whole community of educators at this institution that they can be a part of," said Walter Eppich, MD, PhD, director of FAME and associate professor of Pediatrics in the Division of Emergency Medicine and of Medical Education.
The underlying purpose of the Medical Education Day, Eppich explained, is two-fold: to help Feinberg's clinical educators increase their interest in the importance of medical education as well as to elevate the interest of those already involved with undergraduate, graduate and continuing medical education by encouraging them share their knowledge and expertise in sessions.
"I think what we're doing is we're moving the needle in how people function as educators, that they can come here and gain some tips and tricks to help them get just a little bit better to move from good to great," he said.
The event featured more than 30 informative and interactive educational sessions, workshops and lectures that covered various topics including the potential and benefits of using augmented reality as a teaching mode, expanding diversity — particularly the use of transgender standardized patients — within medical curriculum, and applying improvisational theatre techniques to clinical teaching and practice through medical improv.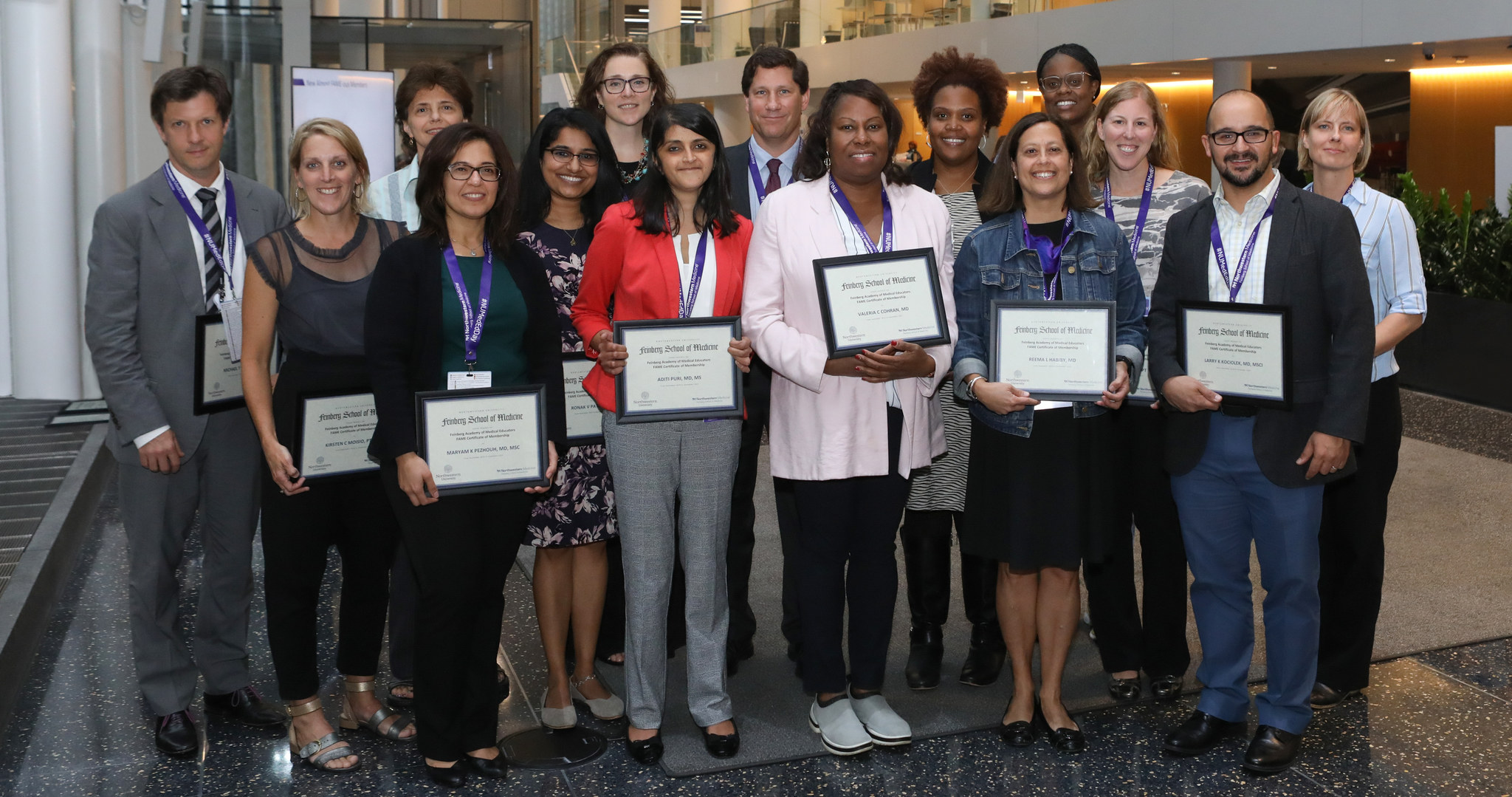 The medical improv session was led by Swati D. Deshmukh, MD, assistant professor of Radiology, and Katherine L. Watson, JD, associate professor of Medical Social Sciences, Medical Education and Obstetrics and Gynecology.
At the medical improv workshop, workshop attendees were asked to walk in a circle, talk with others in the room about their favorite foods, and build a conversation by only starting sentences with "Yes, and…", "Yes, no…", or "Yes, but…" statements.
"We're here because we're usually individualistic mavericks and then we're challenged in this team sport called medicine," Watson explained. "In improv, to 'group mind' means the group decides at the same time. It's this heightened sense of responsibility for one another and 'I don't know what I'll be called on to do, but I know that I'm ready to do it' and that the interest is here, not just in just filling my role."
During an afternoon session, student, faculty and resident representatives from the Student to Resident Institutional Vehicle for Excellence (STRIVE) program, which provides academic, social and professional support to underrepresented minority (URM) students preparing for and applying to residency programs, presented an overview of the program and asked session attendees to consider the unique challenges URM students face in their own departments and areas of expertise.
"We believe STRIVE is effective because in an academic medical center, a lot of the trainees are very siloed: the medical students are at Feinberg and the residents and fellows are in the hospital," said Quentin Riggins Youmans, '15 MD, '18 GME, a fellow in Cardiology. "This peer mentorship model really helps eliminate those silos."
At the closing awards reception, Eppich and Mary McBride MD, Med, associate director of FAME and associate professor of Pediatrics in the Division of Cardiology, announced the winners of John X. Thomas, Jr. Best Teachers of Feinberg Award and the FAME Excellence in Teaching Awards. Also recognized were new members of FAME and the 100 clinician educators who were promoted in 2019.
John X. Thomas, Jr. Best Teachers of Feinberg Award Winners
MD Curriculum: Jennifer A. Bierman, MD, associate professor of Medical Education and of Medicine in the Division of General Internal Medicine and Geriatrics, Shelly Vaziri Flais, MD, clinical assistant professor of Pediatrics in the Division of  Community Based Primary Care, Khalilah Latrece Gates, MD, assistant professor of Medicine in the Division of Pulmonary and Critical Care, Mita Goel, MD, MPH, associate professor of Medicine in the Division of General Internal Medicine and Geriatrics, Geeta Nagpal, MD, associate professor of Anesthesiology, and Clara Schroedl, MD, assistant professor of Medical Education and Medicine in the Division of Pulmonary and Critical Care.
Physical Therapy Program: Krista Van Der Laan, PT, DPT, assistant professor of Physical Therapy and Human Movement Sciences
Physician Assistant Program: Elana Min, PhD, assistant professor of Medical Education in the Physician Assistant Program
Professional Development (STRIVE program): Jennifer Adrissi, MD, Adesuwa Akhetuamhen, MD, and Quentin Riggins Youmans, MD
FAME Excellence in Teaching Awards