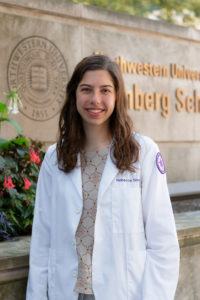 Becca Sinard, a student in Feinberg's MD/MPH Combined Degree Program, is dedicated to improving human health at all levels — from providing compassion to individual patients in the hospital to reducing the spread of staph infections across healthcare facilities.
Sinard, now a second-year medical student, currently serves on the leadership board of All Ears, a new student group at Feinberg that provides students with the opportunity to visit patients in the hospital with chronic or terminal illnesses. The program is designed to provide comfort and companionship to hospitalized patients, as well as help medical students engage with end-of-life healthcare issues.
As part of her master's in public health field experience, Sinard is currently conducting a project in the antimicrobial stewardship program at the Shirley Ryan AbilityLab, where she's examining MRSA colonization rates and appropriate use of vancomycin treatment.
Outside of these activities and her medical school studies, Sinard is also vice president of the Otolaryngology Student Interest Group.
Read a Q&A with Sinard about her why she loves Feinberg, her interest in public health and her most impactful clinical experiences:
Why did you choose Feinberg?
The early clinical experiences and the pass/pass later curriculum especially drew me to Feinberg. Coming into medical school, I wanted to join a student body that felt collaborative and strove to maintain a work-life balance. In talking with current students, I was impressed how much they supported each other, such as sharing study guides, helpful videos and other resources. Students told me that because the Feinberg curriculum is pass/pass later with no internal rankings the first two years, there is no reason students should feel competitive against their peers. The structure of the curriculum gives us flexibility as we figure out how to balance studying with hobbies and everything else outside of school.
Why did you become involved with All Ears?
All Ears is a program that pairs up undergraduate and medical students for the purpose of visiting terminally ill patients in the hospital. It's a wonderful opportunity to provide companionship for hospitalized patients and a chance to mentor undergraduates who are looking for meaningful clinical experiences.
The organization was started by two medical students and a Northwestern undergraduate last year. My classmate Carrie Stump and I became involved this past winter and just recently helped get All Ears officially approved by the Feinberg student senate. Our main job is to help connect medical students with undergraduates based on availability and then provide patient recommendations.
What I enjoy most about All Ears is the opportunity to talk with patients in some of their most vulnerable moments and learn from them about their lives, experiences with the healthcare system and any advice they have for me as I begin my journey in the medical field.
What has been your most rewarding experience at Feinberg so far?
The Education-Centered Medical Home (ECMH) is by far my most rewarding experience at Feinberg. It feels incredible to be part of a team with a physician and upperclassmen students who can provide specific feedback and celebrate your clinical skills development. In ECMH, I have the opportunity to work with patients referred through the transitional care clinic, which targets individuals who primarily seek medical attention in emergency departments. The clinic connects these individuals to primary care physicians like my ECMH preceptor, who can then help manage these especially complex medical cases. In these moments, I see the direct application of my MPH coursework and can appreciate how social determinants of health and greater awareness of them impacts patient care.
Tell us more about your interest in public health.
With two physician parents, I had significant exposure to the medical field from an early age. After years watching my dad engage in annual medical mission trips with partners in Kenya, I began my undergraduate experience at Northwestern interested in global health and fairly certain I wanted to enter the medical field. At the end of my first year, I declared a minor in global health studies, and the following year I eagerly began introductory classes on public health and managing global health challenges. In the following years, I witnessed the combined influence of biological, psychological and social factors on health as I engaged in health psychology research and continued my global health coursework.
While I have yet to develop a clear view of how I want to use my future MD in the field of public health, I have thoroughly enjoyed how my combined MD/MPH coursework encourages me to consider health topics at both the individual patient level and on the broader societal health spectrum.
How do you spend your time outside of medical school?
In my free time, I am a proud mom to a three-year-old corgi named Webster! I love taking him for walks around Chicago, enjoying Taco Tuesdays with my medical school friends, and exploring the many coffee shops and breweries of Chicago.