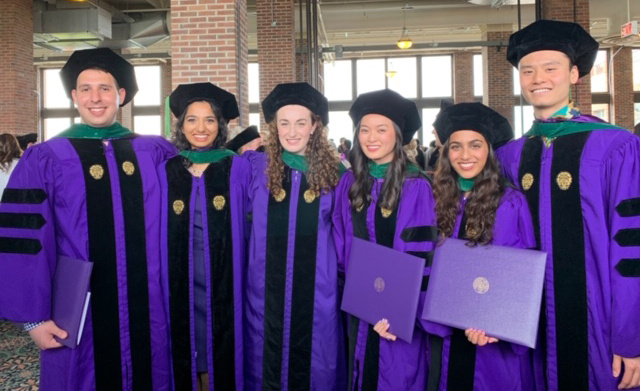 Northwestern has long been home for Pamela Wax, '19 MD.
Wax, who graduated from Feinberg in May, was first a student in Northwestern's seven-year combined BA/MD Honors Program in Medical Education (HPME). During her time in medical school, she also earned a Master's Degree in Business Administration from Northwestern's Kellogg School of Management — and this July, she'll begin her internal medicine residency at the McGaw Medical Center of Northwestern University.
"I chose to continue my training at Northwestern because of the warm and collaborative community here, the diverse patient population and Northwestern's dedication to innovation, quality improvement and physician leadership," Wax said. "My mentors and advisors at Northwestern have been instrumental in my development as a physician, and I look forward to continuing to grow here."
While in medical school, Wax was also active on the Feinberg campus; she was the president and one of the founding members of the running group Heart and Sole and also the Rickett's Society Student Chair for her class. She also served as president of the Jewish Business Student Association and was on the board of the Dance Interest Group.
In this Q&A, Wax shares what she loves about Northwestern, why she's interested in global health and how her MBA has enhanced her medical training.
Why did you choose Northwestern?
I fell in love with Northwestern as a junior in high school, and as an aspiring physician, I was thrilled to be admitted to the combined BA/MD HPME program. I love Northwestern. I had a wonderful undergraduate experience and HPME allowed me to take advantage of so many opportunities that were available to me at Northwestern; along with my premed classes, I took dance, journalism, history and music classes.
Feinberg is an exceptional institution. Administrators are supportive and are passionate about helping students become the best physicians they can be. The student body is collaborative and form a cohesive community. Most importantly, the faculty are wonderful educators and great role models.
Why did you decide to also earn an MBA?
My exposure to the problems facing healthcare delivery is why I decided to pursue an MBA at Kellogg. I love caring for patients and I am passionate about clinical medicine, but I also want to impact patients on a larger scale. I hope to help address the structural forces that are adversely impacting their care.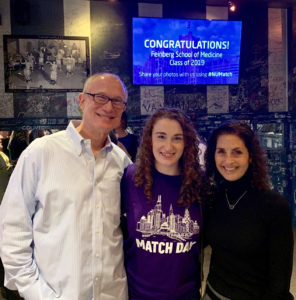 Kellogg trained me to evaluate systemic problems in healthcare, such as how evolving governmental policies, insurance payment models and drug pricing will impact my patients. The integrative approach that I will use to explore patients' healthcare needs through multiple angles mirrors the cognitive tactics that attract me to internal medicine.
Kellogg also provided me with the language and the analytical, communication and leadership skills needed to have a seat at the table when discussing challenges facing healthcare today. I will use these skills to be a true advocate for my patients when coordinating interdisciplinary communications for complicated patients or reviewing patient-facing policies. For example, this past summer, I led a Northwestern Memorial Quality Improvement team to redesign the After Visit Summary across our entire healthcare system to enable it to function as a tool for patient education and autonomy.
Tell us about your interest in global health.
I have always been interested in global health because I believe that the best way for me to care for a diverse patient population and to make holistic large-scale healthcare decisions in the future is to understand how healthcare is practiced around the world and how health is understood in different cultures.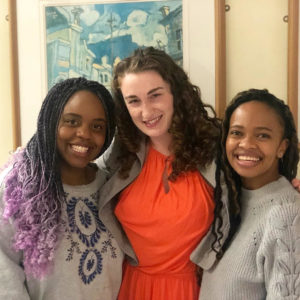 I was also involved in global health while I was at Kellogg, which helped me understand the logistics of how healthcare may be carried out around the world. There, I learned about the infrastructure, market forces and operations that influence clinical decisions. Looking at global health through multiple lenses allows me to understand the efforts that will be needed to make a difference in the health of people worldwide.
While in medical school, I decided to complete a global health rotation in South Africa because clinically, it would expose me to a completely different disease panel and culturally, it would expose me to a diverse and very unequal population all in the setting of a mostly socialized healthcare system.
While in the internal medicine wards at Tygerberg Hospital, I became familiar with clinical manifestations and treatment options for tuberculosis and advanced HIV. I also became exposed to an array of medical and ethical concerns, such as rationing of medical resources and social determinants of health that I had not come across during my time on rotations in Chicago. The physician-patient relationship was drastically different than the one I am used to — this made me realize that patients from different cultural backgrounds may view our relationship differently from others, and that it is vital to understand how a patient views my relationship with her before being involved in her treatment.
Why did you choose internal medicine, and what are your future career interests?
I love internal medicine and the variability and complexity of presentations that internists address, and the toolkits and problem-solving approaches with which they are trained to treat them​.
I strive to be a clinician leader with ongoing involvement in quality projects that directly affect patient care. I hope to combine my passion for clinical medicine with my aspiration to address systemic barriers to efficient healthcare in order to improve care for all patients.