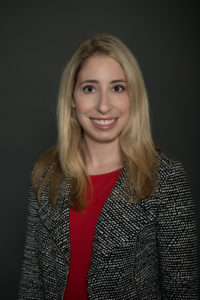 Lindsay Zimmerman, a student in the Health Sciences Integrated PhD Program (HSIP), was recently named a 2019 Presidential Fellow.
The fellowship, the most prestigious fellowship awarded to graduate students by Northwestern University, recognizes Zimmerman's significant research, academic achievement, leadership and future potential. As one of just six Presidential Fellows, Zimmerman will take on a leadership role in the Society of Fellows and represent her discipline by attending quarterly dinners, spearheading outreach activities, and leading discussions and seminars throughout the year.
"I'm thrilled to serve as one of this year's Presidential Fellows and the first Fellow to represent the Health Sciences Integrated PhD Program," Zimmerman said. "I'm most excited about interacting with the other students in the Society of Fellows and learning more about their research and backgrounds; their perspectives will be incredibly helpful as I continue to develop my dissertation work."
Zimmerman, a student in the Health and Biomedical Informatics track of HSIP, is currently investigating the relationship between social determinants of health and cardiovascular health.
In this Q&A, she discusses the goals of her research, what she enjoys most about graduate school, and how she remains active in the Chicago community:
Why did you choose Northwestern?
I chose to enter Northwestern's HSIP program because I wanted to diversify and strengthen my research skillset, while also collaborating with other like-minded students, professors and investigators. I want to become a leader tackling today's pressing public health issues and felt that HSIP's inherent interdisciplinary and applied focus would best prepare me for this future career.
The Health and Biomedical Informatics Track in HSIP was especially appealing because of the training in the development of tools and IT-based innovations for addressing our current and future health problems in today's digital world.
What is your background?
Prior to graduate school, I served as the director of research for the Department of Obstetrics and Gynecology and Division of Family Planning at John H. Stroger, Jr. Hospital of Cook County, Chicago's primary safety-net hospital.
This experience confirmed my passion for public health research and expanded my understanding of every aspect of research, from idea conception to manuscript publication.
Prior to Stroger, I obtained my master's in public health at the University of Illinois at Chicago with a concentration in epidemiology, which deepened my understanding of healthcare institutions and public health systems.
What is your research focus?
My research aims to better understand the relationship between social determinants of health and cardiovascular health, using sequential pattern mining and machine learning techniques.
This work is vitally important in providing much-needed information about how exposures to social determinants change over time and how they can be used to improve the prediction of patients at high-risk for low cardiovascular health. Identification of the social determinants of health and trajectory groups that improve the prediction of cardiovascular health may also provide helpful information for programs looking to develop targeted and timely interventions for these high-risk populations.
For my dissertation work, my primary mentor is Dr. Donald Lloyd-Jones. Drs. Kiarri Kershaw and Yuan Luo are also part of my collaborative dissertation committee.
What public health activities are you involved in outside of Northwestern?
I am involved with two Chicago-based non-profits, the Cook County Health Foundation Associate Board and The Night Ministry.
I co-founded the CCHF AB and served as the board's second president; I am currently the vice chair of the CCHF AB's Volunteering & Partnerships Committee. Our mission on the CCHF AB is to support Cook County Health (CCH) in ensuring all community members have access to quality healthcare regardless of their ability to pay. We aim to increase awareness of the CCH mission and purpose, raising funds for programs and services that improve the quality of patient care, and by laying the foundation for future philanthropic support of the system.
The Night Ministry is a Chicago-based organization that works to provide housing, healthcare and human connection to members of our community struggling with poverty or homelessness. I helped to found their Associate Board and currently serve as an active member. I am also a member of the Performance Measurement Committee on The Night Ministry's Board of Directors.
What has been your favorite experience of graduate school so far?
My best experiences at Feinberg have been working with diverse research teams, exposing me to collaborative research in practice. My dissertation committee is made up of a unique group of faculty members with expertise in cardiovascular health, the clinical and social factors that influence health throughout young adulthood, and machine learning methods. I also work with Dr. Abel Kho and his team at the Center for Health Information Partnerships; this experience has provided me with an improved understanding of the innerworkings of multi-center and large-scale research networks.
What are your plans for after graduation?
My long-term career goal is to become an independent research scientist in an academic setting, studying social determinants of health and using data science and informatics tools to improve public health. I am passionate about collaborative research and in my future role, I see myself serving as an intermediary between healthcare professionals and the technical team working to create the much-needed data-based tools and interventions to address social determinants.