As Roey Fuller, '19 MD, '19 MBA, prepared to cross the stage and receive her diploma, she thought back to those who supported her during her Feinberg journey.
"There were definitely moments when I questioned myself, especially as a new mom. But I am so proud to be able to say that I made it, with my baby on my hip and my husband at my side," Fuller said. "I am very lucky for the unwavering confidence my family had in me that got me over the finish line."
Fuller, who will begin a residency in pediatrics this fall at Ann and Robert H. Lurie Children's Hospital of Chicago, also credits her mentors at Feinberg; in particular, Angira Patel, MD, MPH, '10 '11 GME, associate professor of Pediatrics in the Division of Cardiology and of Medical Education.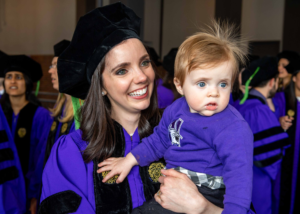 "She was a great counselor on how to be a mom in medicine," Fuller said. "I am so proud that I get to pursue my passion and that my son, Henry, gets to watch that."
Feinberg's commencement, held May 20 in the Aon Grand Ballroom at Navy Pier, was introduced by Eric G. Neilson, MD, vice president for Medical Affairs and Lewis Landsberg Dean, who welcomed graduating medical students, faculty, family and friends to the ceremony.
"As I reflect on the extraordinary things you have accomplished so far, I am reminded you are also embarking on a new stage in your life as students of medicine," Neilson said. "This stage is more personal and reflective, where you quickly become your own teacher and set goals for what you will remember and refresh through years of continuing medical education — you are embarking on a joyous journey of life-long learning."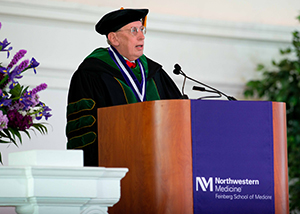 Following Neilson was Jonathan Holloway, PhD, provost of Northwestern University, who spoke about students' personal growth and the friendships they forged along the way.
"You have spent more hours than you can possibly recall in classrooms, labs and clinics. You have developed technical skills you simply didn't have before, your intellectual curiosity has been sated and whetted anew time again, and you have developed powerful bonds among your peers as you navigated the myriad challenges of earning your degrees," Holloway said.
Holloway then introduced Talmadge King, Jr., MD, dean of University of California, San Francisco School of Medicine, who delivered the commencement address.
"Health inequality is rooted in social injustices that make some populations more vulnerable to poor health than others. These disparities lower our overall gains in quality of care and health of the population, and result in unnecessary cost," King said. "As the population becomes more diverse, addressing this issue will be even more important. You need to commit, individually and collectively, to sharing scientific advances and fixing the health inequalities so that all Americans will have the opportunity to make choices that allow them to live long healthy lives, regardless of income, education and economic background."
Marianne Green, MD, senior associate dean for Medical Education, presented the members of the class of 2019. As the newly minted physicians crossed the stage, they received their diplomas and doctoral hoods from a fellow physician, usually a mentor or family member.
After degrees were conferred, Jordan Rook, '19 MD, addressed his classmates on the importance of treating the whole patient, not just their illnesses.
"No lay person will have our formal experience of understanding of illness, as such, the guidance we provide should not be limited to a disease's physical manifestations, but to how it uniquely affects each patient," Rook said. "We are still human, and as humans, it is our compassion and comfort that can guide patients as they experience disease."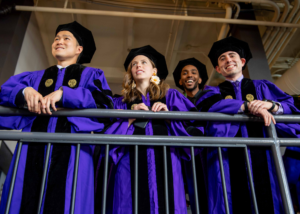 After the commencement ceremony concluded, Neilson led the graduates in reciting the Declaration of Geneva, the modern declaration of the physician's oath — the same one they took as first-year medical students at Founders' Day.
Twenty-nine graduating students were inducted into the Alpha Omega Alpha medical honor society. Three students received Magna Cum Laude in Scientia Experimentali, while 15 received Cum Laude in Scientia Experimentali. Nine students graduated Summa Cum Laude, seven graduated Magna Cum Laude, and eight graduated Cum Laude.
Many also took advantage of Feinberg's dual-degree programs; six graduates received a Master's Degree in Business Administration, three earned a Master's Degree in Medical Humanities & Bioethics, another six received a Master's Degree in Public Health and eleven completed a PhD in the Medical Scientist Training Program.
A reception for graduates, friends and family followed the ceremony at Navy Pier.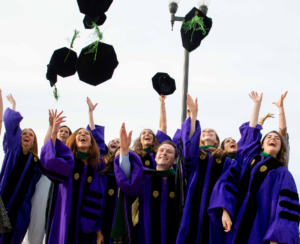 "I think that like any big transition, graduating brings about a lot of excitement and apprehension. But, for me the most incredible thing about graduation is being referred to as 'doctor,'" said Jacob Burns, '19 MD. "Fortunately, I think that this is a title we will grow into over the coming months, even if it doesn't totally feel right when we're handed the diploma."
Burns is on his way to Baltimore, to pursue a residency in internal medicine at Johns Hopkins University, and he believes Feinberg's focus on clinical experiences has prepared him well for the rigors of the next step.
"As third- and fourth-year students at Feinberg, we have a lot of opportunities to be a primary provider for patients, whether real or in a simulation," Burns said. "I think that this has certainly prepared me to be an intern and to have greater responsibility for the care of patients."
For now, though, Burns was savoring his accomplishments with those who supported him during his time at Feinberg.
"I'd like to thank my clinical and research mentors for being such outstanding role models for me in medicine, as well as for providing me with tools to be successful in medical school and beyond," Burns said. "Most of all, I'd like to thank my family for their constant care and support, even when I was tired and grumpy or would forget to call. Medical school is a long road and often a very difficult one, and I couldn't imagine getting through it without them."