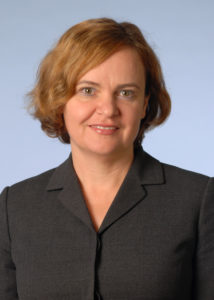 A drug called niraparib showed clinically relevant activity in women with relapsed ovarian cancer who had exhausted all previous treatment options, according to the results of a phase II trial published in The Lancet Oncology.
"The results of this study provide a new treatment option for women with recurrent ovarian cancer," said co-author Daniela Matei, MD, professor of Medicine in the Division of Hematology and Oncology and of Obstetrics and Gynecology in the Division of Gynecologic Oncology.
Ovarian cancer, the most common cause of gynecological cancer death, is often diagnosed at an advanced stage. While many patients will initially respond to therapy, about 70 percent will eventually relapse. There are few effective treatments for those patients who have exhausted front-line therapy options, and survival rates are poor.
Recently, a new class of drugs called PARP inhibitors — which target the DNA repair enzyme PARP — were approved for the treatment of patients with ovarian cancer who retain sensitivity to chemotherapy. However, activity in late-stage disease remained unproven, Matei explained.
The current trial was designed to evaluate the antitumor activity and safety of the PARP inhibitor niraparib in a broad population of patients with recurrent ovarian cancer.
The multicenter phase II trial included 463 women with relapsed ovarian cancer, regardless of molecular biomarkers (such as BRCA mutations) or sensitivity to chemotherapy. The participants, who had all previously been treated with three or more chemotherapy regimens, received oral niraparib once per day until disease progression.
The study demonstrated that niraparib has clinically relevant activity in the late stages of ovarian cancer.
"This is the first report showing that niraparib has activity in women with recurrent and chemotherapy-resistant ovarian cancer," said Matei, also the Diana, Princess of Wales Professor of Cancer Research and a member of the Robert H. Lurie Comprehensive Cancer Center of Northwestern University.
Side effects of the drug were considered manageable, and were consistent with what had been reported in previous trials.
In future research, investigators will evaluate combinations of PARP inhibitors with other biological agents, such as immunotherapy or anti-angiogenic agents, Matei said.
The study was funded by Tesaro, which manufactures niraparib. Matei reported receiving personal fees from Tesaro outside the current study.