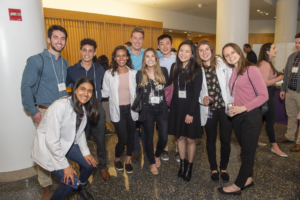 View a photo album from Second Look.
Maggie Fain was among the 160 students accepted to Feinberg who returned to Chicago for the annual Second Look event. Fain, who was accepted into the Medical Scientist Training Program (MSTP), said she was impressed by the program's focus on supporting students.
"The MSTP is a marathon, not a sprint, so it's great knowing the school would be behind me throughout the entire process," said Fain, a graduate of Washington University in St. Louis who is interested in bridging the gap between basic science and clinical care.
"I want to know both sides of the story," she said. "When you're an MD, you learn the science and then apply it to patients — I want to understand the science too, to hopefully treat diseases that are still unknown to medicine."
Second Look, held April 11 and 12 this year, allows admitted students to get a taste of life at Feinberg by attending seminars, touring campus and meeting with current students and faculty.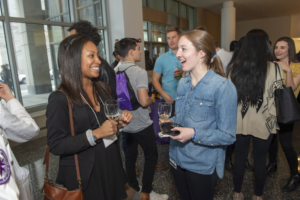 "Our community of educators and leaders are committed to your becoming an exceptional clinician and leader," said Roopal Kundu, '01 MD, associate dean for Admissions and the Jacob R. Suker, MD, Professor of Medical Education, as she welcomed students at a reception held Thursday night. "We know there's greatness ahead in each of you, and we want to cultivate that and give you the ability to pursue it with all your efforts."
Current students and faculty mingled with admitted students while tasting a variety of Chicago-inspired dishes. Diane B. Wayne, '91 MD, vice dean for Education and the Dr. John Sherman Appleman Professor of Medical Education, also addressed attendees.
"When you think about life choices, sometimes you have a gut feeling," Wayne said. "Chicago is a wonderful city full of friendly people, and when I came for my interview, I just knew this was the place."
On Friday, students participated in a wide range of activities, including an exercise with a simulated patient, a student-led panel and information sessions about various dual degree programs and opportunities for student-led science.
Chandler McMillan, a graduate of Duke University who was admitted into the combined MD/MPH dual degree program, said she is interested in maternal health in a non-profit setting.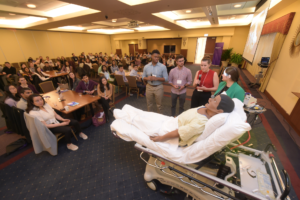 "Chicago is definitely a huge draw; the population is fairly diverse so I expect I'll be able to see interesting cases during my clinical years," McMillan said.
Other students, like Daniel Matthews, a prospective MD student who attended Northwestern University, were drawn to Feinberg for more intangible reasons.
"I've heard about the strong sense of community from some of the M1s, and that's really important to me," Matthews said. "I think it's going to be a good fit."