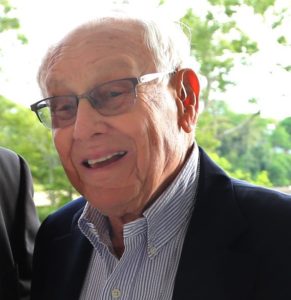 Laszlo Lorand, PhD, professor emeritus of Cell and Molecular Biology and a distinguished scientist whose career spanned more than 60 years at Northwestern, passed away on December 6. He was 95.
Lorand was an internationally recognized biochemist known for his landmark discoveries into blood clotting mechanisms, a highly respected educator and mentor, and a devoted husband, father and grandfather.
"Laszlo was an exceptional scientist, as well as an extraordinary colleague, mentor and friend," said Robert Goldman, PhD, the Stephen Walter Ranson Professor of Cell Biology and chair of Cell and Molecular Biology. "He was a pillar of the scientific community at Northwestern, and his discoveries have had an enduring and very significant impact on the broader field. He will be sorely missed, but he has left a lasting legacy. Personally, I will never forget our fascinating discussions which began over 40 years ago and ended a few weeks ago when Anne and I visited Laci a few days before he passed away."
Lorand was born in Győr, Hungary in 1923. He obtained an absolutorium in medicine from the University of Budapest and a PhD in biomolecular structure from the University of Leeds in England in 1951. He taught physiology and pharmacology at Wayne State University School of Medicine prior to joining Northwestern in 1955.
At Northwestern, Lorand was instrumental in securing National Institutes of Health (NIH) support for an extension to the Tech building on the Evanston Campus, was the first director of an NIH-funded Biochemistry Training Program and became a founding member of the Department of Cell and Molecular Biology.
After nearly four decades on the Evanston Campus, Lorand brought his laboratory to the medical school in 1993. He is credited with helping to strengthen biomedical collaboration across campuses, as well as recruiting many prominent scientists to the university.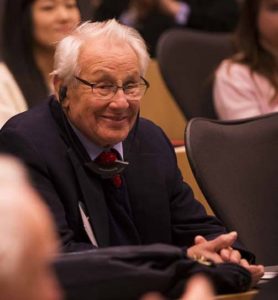 Lorand was the author of more than 200 scientific publications. His research in the area of thrombosis, protein associations and calcium ions is considered to have had a major impact in the field of blood coagulation. In particular, he was a co-discoverer of factor XIII (formerly referred to as Laki-Lorand factor and fibrin stabilizing factor), a protein that plays a critical role in blood clotting.
Lorand was elected a member of the National Academy of Sciences in 1987. He was also a fellow of the American Academy of Arts and Sciences, a foreign member of the Hungarian Academy of Sciences, and the recipient of numerous other awards and honorary degrees throughout his career.
Lorand was preceded in death by his wife, Joyce Bruner-Lorand. He is survived by his daughter, Michele Lorand, MD, two grandchildren and two great-grandchildren.