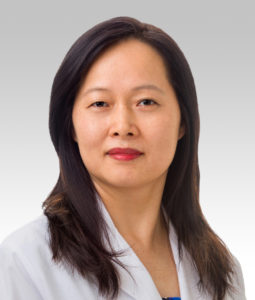 A Northwestern Medicine study has revealed new insights into a pathway in prostate cancer and identified a potential new therapeutic target for aggressive disease.
Jindan Yu, MD, PhD, professor of Medicine in the Division of Hematology and Oncology and of Biochemistry and Molecular Genetics, was the senior author of the study published in Nature Communications.
Prostate cancer is the most frequently diagnosed cancer in American men, and the third-leading cause of cancer death. Although prostate cancer that is detected early is often successfully treated, there is a significant need for new therapies for those with advanced forms of disease.
Genomic analyses have revealed that about 10 percent of prostate cancers have mutations in SPOP, a gene that encodes a protein which is known to degrade some other proteins. When SPOP is mutated, its target proteins are stabilized instead of degraded, leading to overexpression.
Recent research has shown that one main target of SPOP is a protein called TRIM24. When SPOP is mutated, stabilization of TRIM24 leads to enhanced function of androgen receptors, which drives prostate cancer progression.
However, TRIM24 has been found to be widely upregulated throughout metastatic prostate cancers — even in the absence of SPOP mutations.
Yu and her team sought to understand what other major mechanisms might lead to TRIM24 protein elevation in advanced prostate cancer. "We thought it had to be something in addition to SPOP mutations that stabilizes TRIM24," explained Yu, also co-leader of the Translational Bridge Program at the Robert H. Lurie Comprehensive Cancer Center of Northwestern University.
In the current study, the scientists identified for the first time that another protein, called TRIM28, is a key regulator of TRIM24 protein stability. In cancers with normal SPOP, TRIM28 protects TRIM24 from degradation. The current discovery provides an explanation for why TRIM24 is broadly elevated throughout aggressive prostate cancers, which often also have an increased TRIM28 level.
Drugs that target TRIM24 are currently in development, but it had been unclear which patients might be most responsive to these inhibitors. The current study suggests that patients with high TRIM28 expression levels might be most sensitive to TRIM24 inhibitors, according to Yu.
Furthermore, the study also demonstrated that TRIM28 promotes prostate cancer progression and is associated with worse clinical outcomes — suggesting that TRIM28 itself could serve as a promising target for therapy.
In ongoing research, the Yu laboratory is now further exploring TRIM28's role in prostate cancer. "We clearly show that the upregulation of TRIM28 can lead to oncogenesis and that TRIM24 is one target, but TRIM28 has other major functions that have not been well characterized," Yu said. "We want to continue to study it in prostate cancer, which will eventually help us to develop inhibitors of TRIM28 to potentially block its function."
Ka-wing Fong, PhD, research assistant professor of Medicine in the Division of Hematology and Oncology, was first author of the paper.
The study was supported in part by the U.S. Research Scholar Award RSG-12-085-01 from the American Cancer Society, the National Institutes of Health (NIH) R01CA172384, R50CA211271, the Northwestern Prostate SPORE (P50 CA180995) and the Department of Defense Awards #W81XWH-17-1-0578 and #W81XWH-17-1-0405.