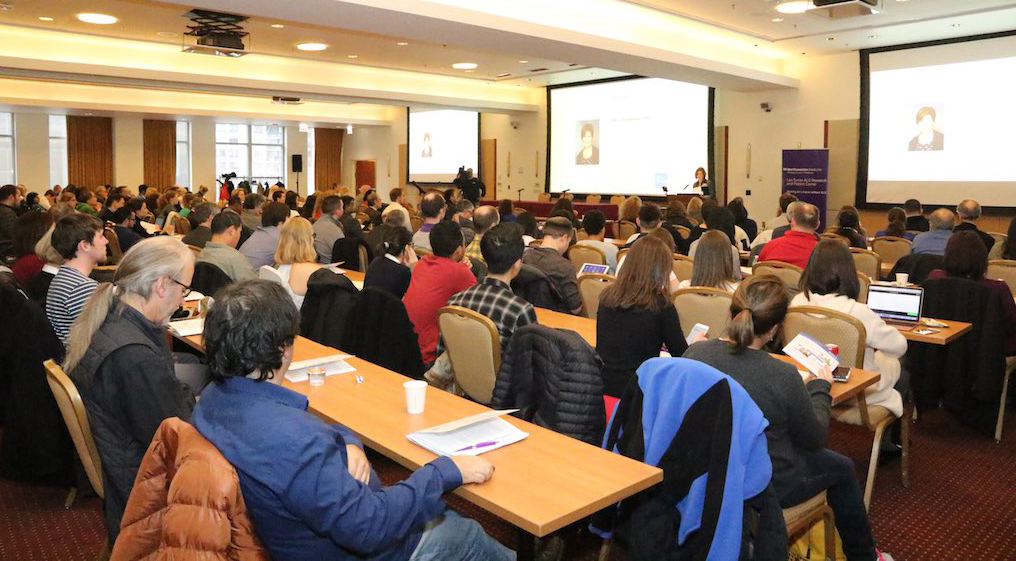 The 8th Annual Les Turner Symposium on ALS and NeuroRepair brought together scientists, clinicians, patients and families to share the latest discoveries in ALS research, provide patient education and promote collaboration between leaders in the field.
Amyotrophic Lateral Sclerosis (ALS) is a progressive neurological disease that attacks upper and lower motor neurons. There is no cure, and life expectancy is typically three to five years from the onset of symptoms.
The symposium, held November 12 and sponsored by the Les Turner ALS Center at Northwestern Medicine, featured a keynote address, poster session, research talks and a Q&A with clinicians.
"When we started this symposium eight years ago, we had this idea that not a single neuron in our brain functions alone; the brain functions through connections. And if we want to understand the brain, maybe we should mimic the brain," explained Hande Ozdinler, PhD, associate professor of Neurology in the Division of Neuromuscular Disease and an organizer of the event. "To solve complex problems, we need to form teams and establish strong connections, just as our brain does."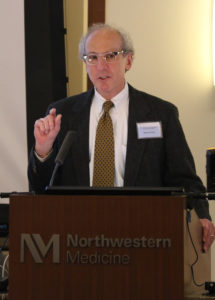 The symposium's keynote speaker was Merit Cudkowicz, MD, MSc, chief of neurology service at Massachusetts General Hospital and the Julianne Dorn Professor of Neurology at Harvard Medical School, who discussed the current pipeline of ALS therapies.
"We're at an incredible inflection point in ALS therapeutics," said Cudkowicz, also director of the Amyotrophic Lateral Sclerosis Clinic at Massachusetts General Hospital. "There are so many people studying this illness across the globe and so many new targets and ideas that we are really poised to make a huge impact for our patients."
Leading scientists in ALS from Northwestern, the University of Chicago and the University of Illinois at Chicago also shared their current research.
Robert Kalb, MD, director of the Les Turner ALS Center at Northwestern Medicine, chief of Neuromuscular Disease in the Department of Neurology and the Les Turner Professor, delivered the symposium's first talk.
"I think that all neurogenerative diseases — and ALS in particular — are diseases of what I call protein homeostasis," Kalb said. "One of the most important pieces of evidence that this is a central process that goes south in neurogenerative disease is the accumulation of damaged proteins. If we could figure out ways of dealing with this cellular 'garbage,' I believe we would be on a path toward effective therapies."
Research presentations were also delivered by Ozdinler; Evangelos Kiskinis, PhD, assistant professor of Neurology in the Division of Neuromuscular Disease; Teepu Siddique, MD, the Les Turner ALS Foundation/Herbert C. Wenske Foundation Professor; Scott Brady, MD and Jeffrey Loeb, MD, PhD of the University of Illinois at Chicago College of Medicine; and Raymond Roos, MD, of the University of Chicago Medicine.
Andrea Pauls Backman, MBA, CEO of the Les Turner ALS Foundation, and Dimitri Krainc, MD, PhD, chair of the Ken & Ruth Davee Department of Neurology and the Aaron Montgomery Ward Professor, introduced Cudkowicz before her keynote address.
"I believe we're at a point in ALS where hope is really a reality now," Cudkowicz said. "There are a lot more smart people thinking about it and the speed of new discoveries is just exponential. I think we're going to come up with amazing cocktails that are going to help our patients — whether it be drugs, gene therapy, stem cells or some combination. We're going to turn this terminal illness into maybe first a chronic disease, and hopefully then a reversible and then preventive disease. It's really exciting."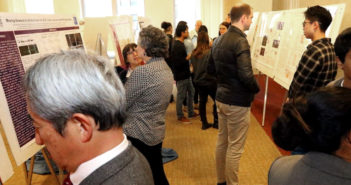 In the afternoon, a panel of clinicians hosted an "Ask the Experts" session for patients. The panel, moderated by Kalb, included Cudkowicz; Senda Ajroud-Driss, MD, associate professor of Neurology in the Division of Neuromuscular Disease; Lisa Wolfe, MD, associate professor of Neurology and of Medicine in the Division of Pulmonary and Critical Care; and Colin Franz, MD, PhD, '13 '17 '18 GME, assistant professor of Physical Medicine and Rehabilitation.
Bringing Together Discovery and Patient Care
The Les Turner ALS Center at Northwestern Medicine unites all ALS basic science, clinical investigation and patient care under one umbrella. The center was established by The Les Turner ALS Foundation, one of the country's oldest independent ALS organizations.
"We were founded in 1977 and the vision that the foundation's founders had — to fund desperately needed ALS research — hasn't changed," Pauls Backman said. "That vision has remained with us and has now grown to include four dedicated ALS research laboratories, one of the nation's first multidisciplinary ALS clinics — the Lois Insolia ALS Clinic here at Northwestern — and a variety of educational events just like the one today."
The 8th annual symposium was sponsored by Mitsubishi Tanabe Pharma America, Northwestern Medicine, and Northwestern's Mesulam Center for Cognitive Neurology and Alzheimer's Disease and Center for Molecular Innovation and Drug Discovery (CMIDD).
Along with the event's sponsors, Pauls Backman also thanked Ozdinler during her remarks. "This symposium would not exist if it weren't for the tireless efforts of Dr. Hande Ozdinler," Pauls Backman said. "She started this eight years ago, and it has grown tremendously ever since. Her contributions have done so much to make this the preeminent ALS symposium here in the Midwest."
Photo credit: Bob Lee