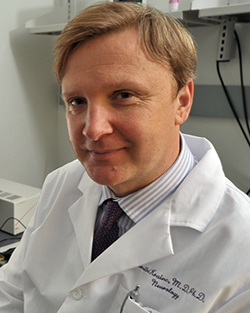 Dimitri Krainc, MD, chair of the Ken & Ruth Davee Department of Neurology and the Aaron Montgomery Ward Professor, received the 2018 American Neurological Association (ANA) Soriano Award at the ANA's 143rd Annual Meeting.
Krainc, also director of the Center for Neurogenetics, a professor of Neurology in the Division of Movement Disorders, and of Neurological Surgery and Physiology, received the award for his contributions to the field of neuroscience and his efforts to fight neurodegenerative diseases.
"It's a great honor to be recognized for this work," Krainc said. "This award also recognizes many talented members in my research group who work very hard every day on behalf of our patients and their families to advance our understanding of neurodegenerative diseases."
Krainc also delivered a keynote lecture at the ANA's Presidential Symposium, where he outlined his recent discoveries in the area of Parkinson's disease (PD) and Lewy body dementia (LBD).
Much of Krainc's research has focused on glucocerebrosidase 1 (GBA1), a gene mutation that increases a patient's risk of developing PD or LBD. According to Krainc, mutations in GBA1 can reduce production of the glucocerebrosidase enzyme, which can cause a buildup of harmful proteins in the brain.
"We've identified small molecules to activate that enzyme, and we now have this treatment in clinical trials," Krainc said. "This is one exciting story in our strategy of personalized neurology: a long journey that starts with mechanistic dissection of disease mechanisms to identify targets for drug development, and that ends in clinical trials. We are eagerly awaiting the results of these clinical trials."
Krainc noted that in addition to medical experts, the Presidential Symposium also had one notable non-medical speaker: Susan Schneider Williams, who was married to actor Robin Williams when he died in 2014. It was determined only after Williams's death that he suffered from a severe case of Lewy body dementia, and Schneider Williams has spent the last two years advocating for LBD research and awareness.
"I believe that Robin's death and his battle against these diseases holds a profound purpose," Williams said in her remarks. "There was power in what he suffered. I'm here to see that power transformed into something good."
Founded in 1875, the ANA is among the oldest neurological societies in the world. The association is dedicated to advancing the field of academic neurology through training and educating neurologists, and expanding knowledge of diseases that affect the brain and how to treat them.