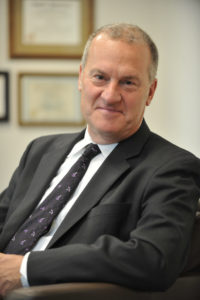 A drug called apalutamide, when added to standard therapy, slowed cancer progression in men with prostate cancer, while still maintaining quality of life, according to the results of a recent clinical trial.
"This gives patients a new treatment option that will not compromise their quality of life as they receive it," said David Cella, PhD, the Ralph Seal Paffenbarger Professor and chair of Medical Social Sciences, who was a co-author of the study, published in The Lancet Oncology.
Prostate cancer is the second-leading cause of cancer death among American men. In men with a disease state called high-risk non-metastatic castration-resistant prostate cancer, the cancer has not spread beyond the prostate, but is no longer being controlled by standard hormone therapy. For such patients, there is a significant risk of the development of metastasis and death.
Treatment options for men with non-metastatic castration-resistant prostate cancer, however, have been limited.
Apalutamide is a novel androgen receptor inhibitor that prevents testosterone — which fuels the cancer — from binding to prostate cancer cells.
In a previously published trial called SPARTAN, patients with non-metastatic castration-resistant prostate cancer who were considered at high risk for metastasis were randomized to receive either apalutamide or a placebo. All 1,207 participants also continued to receive standard androgen deprivation therapy.
The multi-center phase III trial demonstrated that patients who received apalutamide experienced significantly longer metastasis-free survival — a median of two years — compared to those who received standard therapy alone.
In February 2018, based on the results of SPARTAN, the FDA approved apalutamide for the treatment of men with high-risk, non-metastatic castration-resistant prostate cancer.
Up until now, however, it was not well-established what impact the therapy might have on quality of life. Patients' experience of treatment is an increasingly important factor when making treatment decisions.
In the current study, investigators used data from the SPARTAN trial to assess quality of life with apalutamide. They analyzed patient-reported measures of health-related quality of life — which include physical, emotional and functional well-being, among other aspects — in men with high-risk non-metastatic castration-resistant prostate cancer who were asymptomatic.
"The worry here is that side effects associated with adding a new therapy, such as fatigue, will outweigh any benefit in controlling the cancer," Cella explained.
The investigators found that adding apalutamide to standard therapy had no significant impact on patient-reported quality of life.
The fact that a novel, effective drug can be added to the current standard of care while preserving quality of life is a significant advancement for patients with this form of prostate cancer, the authors wrote.
Cella is also director of the Center for Patient-Centered Outcomes at the Institute for Public Health and Medicine, and the associate director for Cancer Prevention and Control Research at the Robert H. Lurie Comprehensive Cancer Center of Northwestern University.
The study was funded by Janssen Research & Development, which manufactures apalutamide.